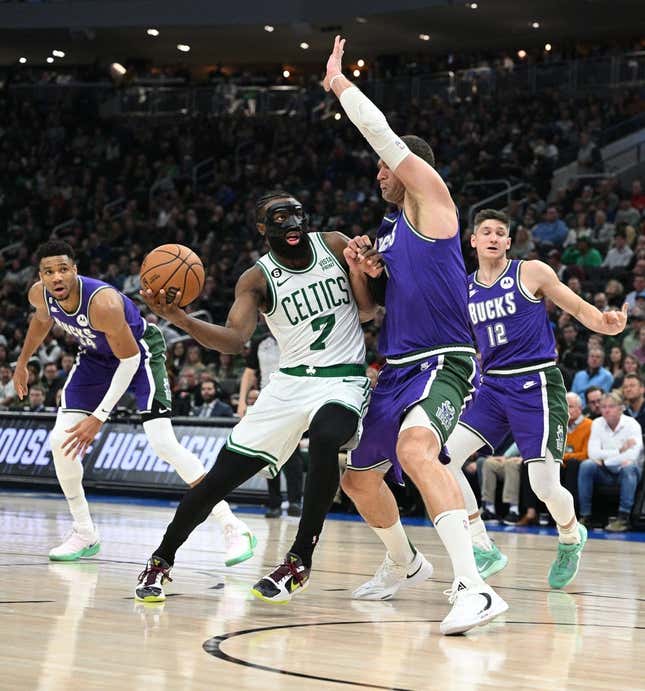 The Boston Celtics received a 40-point performance from Jayson Tatum and tightened the gap at the top of the Eastern Conference standings by breezing to a 140-99 road victory over the Milwaukee Bucks on Thursday night
Bass' ERA stinks, but not compared to who he is off the mound | Worst of the Week Countdown
The outcome left Milwaukee (55-22) with a two-game lead over Boston (53-24) in the race for the No. 1 seed in the Eastern Conference playoffs. The Celtics won two of their three regular-season games against the Bucks. Each team has five regular season games to play
Tatum made 8 of his 10 3-pointers and also had eight rebounds. Jaylen Brown added 30 points, five rebounds and five assists for the Celtics, who led by 44 in the third quarter and by 49 in the fourth. Boston has a 21-1 record all-time when Tatum and Brown each score at least 30 points in the same game
Al Horford added 14 points and Marcus Smart had 10 points and eight assists for the Celtics
Giannis Antetokounmpo led Milwaukee with 24 points and seven rebounds in 25 minutes. After scoring 51 points against Indiana on Wednesday, Milwaukee's Jrue Holiday was limited to six points in 24 minutes against Boston.
The Bucks had a 21-20 lead midway through the first quarter, but the Celtics dominated the rest of the first half. Boston held a 34-26 lead after one quarter and used a 13-0 spurt to increase its lead to 52-30 with 6:42 remaining in the second quarter
Boston's advantage was 70-40 after Horford made a 3-pointer with 47.1 seconds left in the half. It was 75-47 at halftime.
The Celtics made 12 of their 23 3-point attempts in the first half. Milwaukee was 3-of-22 shooting from behind the arc in the half
Milwaukee's Khris Middleton left the court and went to the locker room with 7:54 remaining in the third quarter after Brown hit him in the mouth with his elbow while driving to the basket. Middleton did not return to the game and finished with 13 points.
Milwaukee's Thanasis Antetokounmpo was ejected with 1:25 remaining for head-butting Blake Griffin.
--Field Level Media