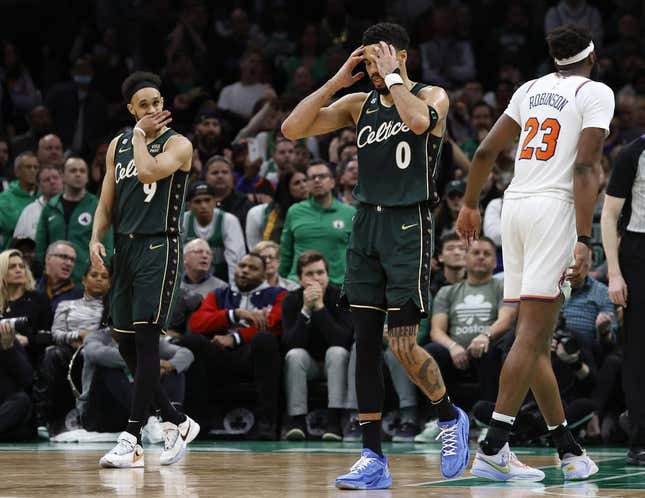 The Cleveland Cavaliers will host the Boston Celtics on Monday night in the second meeting between the teams in March, and the fourth and final matchup of the regular season.
How running an NFL team is like running a restaurant | Chef Emeril Lagasse
Cleveland leads the season series 2-1. Boston posted its win on Wednesday, 117-113 at home, and Cleveland gained overtime decisions on Oct. 28 in Boston, 132-123, and Nov. 2 in Cleveland, 114-113.
Wednesday's game saw Cleveland's Donovan Mitchell outscore Boston's Jayson Tatum in a shootout, 44 points to 41. However, Tatum's final two free throws added to the Celtics' cushion in holding off a rally with the Cavaliers storming back from as many as 19 points down in the fourth quarter.
The Cavaliers rebounded from the loss with a 114-90 blowout of Detroit on Saturday. The win marked the 21st game in which Cleveland -- which has the NBA's best defense at 106.4 points allowed per game -- has held an opponent to less than 100 points.
Second-year forward Evan Mobley has paired with center Jarrett Allen to play a key role in the Cavaliers' defensive dominance.
"He switches out one through five any time, protects the rim really well, slides his feet, contests all the shots," guard Darius Garland said of Mobley to Cleveland.com. "It's really tough just pointing out one thing (Mobley does well). I think he's an All-Defensive-type player, in my opinion."
Mobley averages 1.4 blocked shots per game, and Allen is averaging 1.2. Perhaps as significantly, the two help limit Cleveland opponents to 9.4 offensive rebounds per game, third fewest in the NBA. A by-product is the Cavaliers giving up the third-lowest amount of field-goal attempts per game at 83.6.
Boston enters Monday's contest, the second leg of a back-to-back, off a 131-129 double-overtime loss Sunday to New York.
Tatum scored 40 points and grabbed 11 rebounds, Jaylen Brown went for 29 points and eight boards, and Al Horford finished with 20 points and 14 rebounds for the Celtics, but it wasn't enough.
The loss marked Boston's second straight and third in the last four games. However, Celtics coach Joe Mazzulla said in his post-game press conference that he felt "zero" concern about the term trending in the wrong direction down the stretch of the season.
"The only thing you can control is to try to win the games," Mazzulla said in reference to playoff seeding. "We put ourself in the best possible chance to win. But zero concern. ... You obviously want to be playing your best basketball later in the season as you get closer to the playoffs, but this is a tough stretch. Whatever this stretch has, we have to learn from it."
Boston is fourth in the league in scoring (117.5 points per game). With 113 points at the end of regulation on Sunday, the Celtics have fallen short of their more-than-117-point-per-game mark through 48 minutes in all three of their recent losses.
Defensively, Boston has allowed more than its average yield (112.1 points per game) in each of the last three games, including the most recent meeting with Cleveland.
--Field Level Media