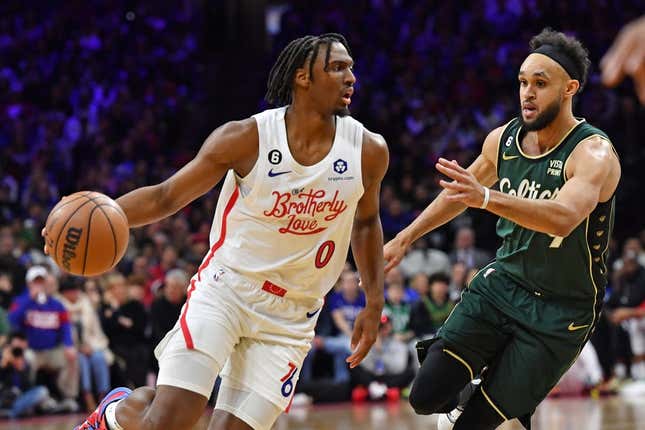 The Boston Celtics will face their final road test of the NBA regular season when they clash with another one of the Eastern Conference's top teams in the Philadelphia 76ers on Tuesday night
Are the Oakland A's a failed state? | Agree to Disagree
Despite winning two straight, Boston (54-24) remains two games behind Milwaukee for the top spot in the conference and the entire NBA. Extending the win streak Tuesday would give the Celtics a sweep of four head-to-head meetings with Philadelphia (51-27)
The Celtics have been off since beating Utah 122-114 Friday, playing a night after their flight was delayed leaving Milwaukee following a 140-99 drubbing of the Bucks. The flight landed six hours prior to the game against the Jazz
"We kind of looked at it as a challenge," forward Jayson Tatum said after the win over Utah. "It was fun figuring it out regardless of how the last 24 hours was. It was rewarding. ... It kind of brought us closer together."
Tatum had 39 points and 11 rebounds following a 40-point effort against the Bucks. He had five of the team's 17 3-pointers on the way to his third straight game leading the Celtics in scoring
Blake Griffin brought fresh energy to the lineup while starting in place of Al Horford, leading the team with 12 rebounds while adding six points and five assists.
"I trust (the team's) experience," Celtics coach Joe Mazzulla said. "I think the most important thing is can you play really good basketball, be detailed and can you find different ways to win? Each game presents a different challenge so whatever we went through (Friday) is probably not going to be as hard as (the playoffs), so I thought we did a good job handling it.
The 76ers have seen mixed results of late, losing three straight, then winning back-to-back games before taking a 117-104 Sunday loss in Milwaukee
Tyrese Maxey led Philadelphia with 29 points. Joel Embiid had 28.
In what could be viewed as a measuring stick game, Sixers coach Doc Rivers was displeased with his team's effort after Milwaukee had been blasted by the Celtics in its worst loss of the season
"I thought (the Bucks) just kicked our butt," said Rivers, who coached the Celtics for nine years and led them to the 2008 NBA title. "They were more aggressive, they were prepared. They beat us all the way around.
It started right off the bat with Milwaukee leading by as many as 20 in the first half. Philadelphia did claw within four in the third quarter at 77-73, but that was as close as the score would get.
"They jumped on us and we didn't have any answers," Embiid said.
The 76ers know that has to change fast. Just four games remain in the regular season
"I'm not watching the game on TV, but I can guarantee you saw a team that looked a little defeated out there from time to time in the game," forward Tobias Harris said. "That can't be us as the playoffs get ready to start."
After the Celtics won the first two head-to-head meetings by nine and seven points, respectively, Jaylen Brown scored the game-winning triple with 1.3 seconds left for a 110-107 road victory for the Celtics on Feb. 25
Tatum scored 18 points and had a team-high 13 rebounds and six assists in that game.
--Field Level Media