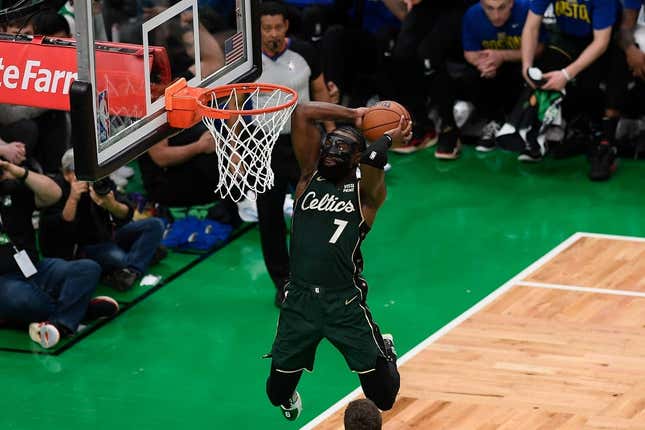 For the Boston Celtics, defense was a focus entering their Eastern Conference first-round series against the Atlanta Hawks
Will South Beach Flu give the Heat home court advantage? | Keep it a Buck(et)
After one game, all is going to plan as the second-seeded Celtics built a 30-point halftime lead and won 112-99 in Saturday's series opener and hope for more of the same when the matchup resumes Tuesday at Boston
Celtics coach Joe Mazzulla still sees room for improvement
"Even though we were fortunate enough to win, you know we can be a lot better," Mazzulla said. "We can do things better. They got more offensive rebounds than us. We turned it over more. There's a lot of stuff there that we can just build on, so we're fortunate in that and we have to have the mindset that we can be better."
Jaylen Brown led the Celtics with 29 points and 12 rebounds, while Jayson Tatum had 25 points with 11 rebounds and Derrick White added 24 points
Reigning NBA Defensive Player of the Year Marcus Smart gave the Celtics 11 points, seven rebounds, seven assists, three steals and two blocks
"He's one of the best, if not the best defender that we have in this league," Tatum said of Smart. "Just extremely special on that side of the ball and he shows it night in and night out."
With Smart feeling better after working through muscle spasms in his neck and consistently at the forefront of Boston's defense, Atlanta was held under 100 points for just the third time all season and first since Dec. 7.
Atlanta finished the regular season scoring more points than any team in the East with 118.4 per game, but it was not until the second half that the team made a run at Boston.
The Hawks had a 55-38 scoring advantage in the second half and will look to carry the momentum into the remainder of the series. After Tuesday's game at Boston, the series moves to Atlanta for Games 3 and 4 on Friday and Sunday
"I think our offense has to help our defense," Hawks coach Quin Snyder said. "Some of that will be as simple as making an open shot and not having to defend in transition. And then there's other things. We've battled our spacing. And we've got to continue to really drill down on that, and be unbelievably precise with where we are on the court.
The Celtics held Hawks star Trae Young to 16 points on 5-of-18 shooting and just one 3-pointer in five attempts. Young averaged 26.2 points during the regular season
"Just making everything (Young) does as tough as possible," Smart said of the Celtics' defensive plan. "He's a great player, a great scorer. He's going to make you work. He's going to hit some tough shots. That's OK. ... The confidence doesn't get going when those shots are tough.
Atlanta's Dejounte Murray scored a team-leading 24 points with eight rebounds, six assists and three steals. The Hawks logged 13 steals, with six of those in the second half
"We came out that first half, and I don't think we (were) really ready," Murray said. "I don't think we were really competing and really locked in like we've been in practice and like we should have been. But it's OK. It's a long series, and in that second half, that's who we are."
--Field Level Media