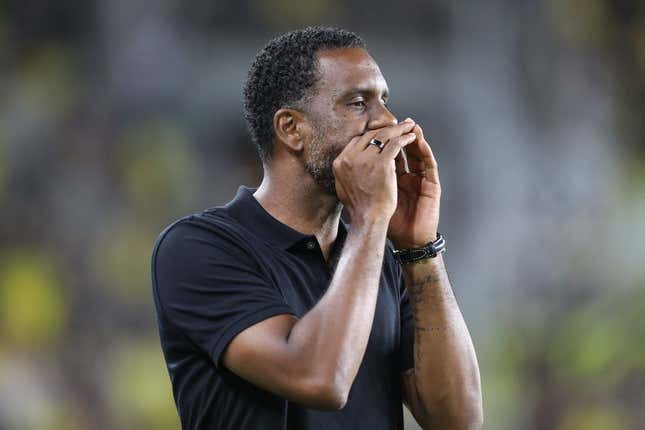 CF Montreal hope to be inhospitable hosts for the homecoming of former coach Wilfried Nancy, defender Rudy Camacho and the Columbus Crew on Saturday.
How running an NFL team is like running a restaurant | Chef Emeril Lagasse
Montreal (11-13-2, 35 points) is 9-3-0 at home but, like the Crew (12-8-6, 42 points), is a different team on the road.
The Crew are 2-7-3 in away matches this season and 2-9-8 in the past 19 outside Columbus since late July 2022. Montreal is 2-10-2 on the road in 2023.
Another commonality is both are coming off 2-0 road defeats on Wednesday — the Crew against the Houston Dynamo and Montreal to New York City FC.
Coach Hernan Losada pinpointed the reason why Montreal's three-match winning streak came to a halt.
"We know that we are a team that wins when we have the lead and when we trail it's more complicated," he said.
Montreal has won 11 matches when scoring first and is 0-12-1 when it permits the initial goal.
"We will do everything to get points on Saturday," Losada said. "It's important to finish on a positive note before the international break."
Nancy made five changes to the starting lineup Wednesday and used all five substitutions but was unhappy with the results.
"I told them I count on every player, and they know that, but at certain moments we didn't have the energy that we usually have," he said. "This is something I don't like. We can make mistakes technically or at certain moments, but they have to be better on that."
Maybe the Crew will be inspired to get a victory for Nancy and Camacho on their returns to Montreal.
Nancy joined the Crew in December after two seasons as Montreal's head coach. He was a finalist for MLS Coach of the Year last season after guiding the club to a franchise record 65 points (20-9-5).
Camacho was acquired in a trade with Montreal on July 31 after playing 128 matches for them since 2018.
"It's going to be weird for me to play there with another jersey but I'm very excited," he said. "I will see family, too, and my friends and I hope we're going to win there."
— Field Level Media