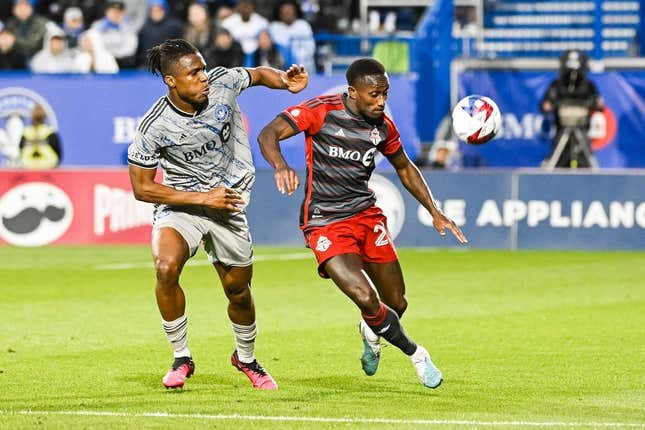 With the break behind them, CF Montreal pursue their playoff push with a visit to Toronto FC in the latest edition of the Canadian Classic on Sunday.
How running an NFL team is like running a restaurant | Chef Emeril Lagasse
Montreal (9-12-2, 29 points) sits 10th in the Eastern Conference table, one point shy of the final playoff spot.
"There's always a danger against any team but especially against Toronto," Montreal midfielder Samuel Piette said. "For me, these matches are in a category of their own. The long break has allowed their injured players to get healthy and be well prepared for the match. We have a chance to kill their season, but they'll want to put a spoke in our wheels. It's a trap game but I think that if we do what we have to do, we'll be fine."
Knocked out of Leagues Cup action back on July 26, Montreal has taken advantage of the past few weeks to work on the details of its play, including its struggles in the final third, being reliable defensively and quicker recovery after losing the ball.
The club is 1-9-2 as the visitors this season and has been shut out in nine of those 12 matches while scoring only five goals in the other three. They're 5-0-1 in their past six MLS meetings against Toronto, including three straight victories.
Montreal could be without wingers Lassi Lappalainen and Ariel Lassiter, as each sustained minor injuries during training over the break. Striker Romell Quioto remains sidelined with a hamstring injury. The Honduran has not played since May 13.
To say it's been a season to forget for Toronto (3-11-10, 19 points) would be an understatement. The club sits 14th in the Eastern Conference, one point up on last place in the conference and the MLS table overall.
The Reds have lost six straight in MLS play and eight across all competitions. They've been shut out in six straight overall since the start of July, outscored 13-0 during that stretch.
There was a tinge of good news for Toronto this week with the expected return of captain Michael Bradley, who last played on April 15. Star striker Lorenzo Insigne and midfielder Victor Vazquez are each listed as questionable.
"It's really lifted training this week," interim coach Terry Dunfield said. "There's quality there, for sure. There's mentorship. And just their presence in training's been great. Michael's been with us for the full three weeks."
But with the good came the bad. Midfielder Latif Blessing is out with an injury and goalkeeper Sean Johnson sustained a hand injury during training Tuesday and is expected to miss four to six weeks. Johnson will meet with a specialist to determine if surgery is necessary.
Backup keeper Greg Ranjitsingh will also be unavailable. Third-stringer Tomas Romero will make his second career MLS start.
—Field Level Media