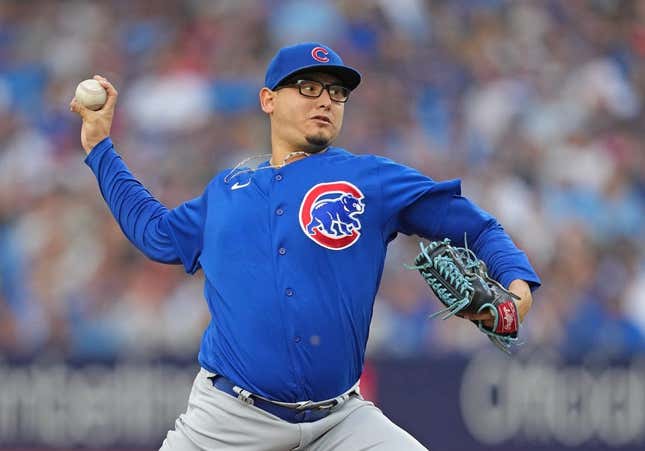 The Detroit Tigers have faint hopes of catching the first-place Minnesota Twins and will need to take advantage of a 10-game homestand, which begins on Monday in the opener of a three-game series against the Chicago Cubs.
How running an NFL team is like running a restaurant | Chef Emeril Lagasse
Detroit has won four of its last five games and trails Minnesota by 7 1/2 games in the American League Central.
Tigers right-hander Alex Faedo (2-4, 5.16 ERA) will start the series opener. His WHIP (0.99) is a lot more impressive than his ERA, thanks to his last three outings.
He has had a pair of scoreless, one-hit performances, first against San Diego over six innings on July 23 and most recently in a five-inning stint against the Twins on Tuesday.
Carson Kelly is expected to be his batterymate and make his Tigers debut. Arizona released the catcher last week, and the Tigers signed him after he cleared waivers. Detroit designated Eric Haase for assignment to clear a roster space for Kelly.
"We think there are some areas we can address to make him better," manager A.J. Hinch said. "We think he can help us moving forward. ... We think we can improve his receiving. We think he has some power. He's got experience. The freakish injuries have held him back, but he's a good all-around catcher."
Kelly is eager to show Detroit that he can become part of its future.
"The last couple of years, I have been on the other side of some injuries," he said. "I broke five bones in three years, and a lot of that was just out of my control. But talking to A.J., he believes they have a good plan for me."
Former reliever Javier Assad (2-2, 3.11), Faedo's mound opponent, has posted two quality starts this month. He held Toronto to one run and four hits in seven innings on Aug. 11.
In his last outing on Wednesday, the Cubs right-hander gave up three runs (two earned) and four hits in six innings against the Chicago White Sox.
With Marcus Stroman out indefinitely, Assad has shown he can be a starter the rest of the season.
"I think he can really pitch," Cubs team president Jed Hoyer said. "I think he shows that his mix is real. He's got a lot of ways to get you out. ... This feels like a guy you can face three or four times and he can get you out in a different way every single time. I think he's crafty in that regard, but he's crafty with real stuff."
The Cubs, who have won three of their last four games, are trying to catch Milwaukee for the National League Central lead. They trail the Brewers by three games. Chicago also holds the final NL wild-card spot entering Monday's games.
"It is such a close-knit group. Picking one another up, day in and day out," said Kyle Hendricks, the winning pitcher in Chicago's 4-3 victory over the visiting Kansas City Royals on Sunday. "Again, we're just playing good baseball focused on the fundamentals one day at a time. We're in a good spot. We just got to go on a good stretch here and keep it rolling."
—Field Level Media