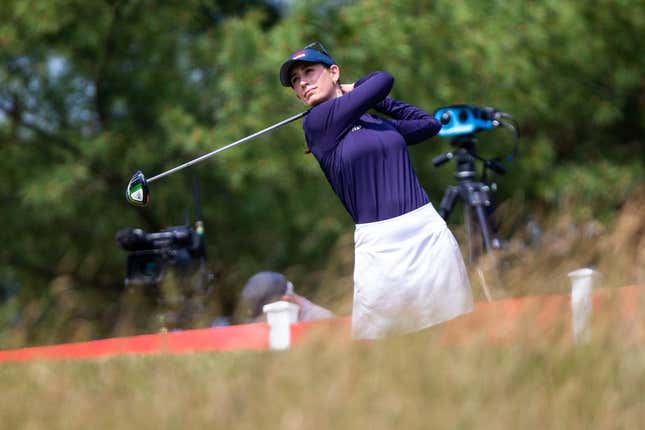 Cheyenne Knight and Elizabeth Szokol birdied the 17th hole and held on for a one-shot victory at the alternate-shot Dow Great Lakes Bay Invitational on Saturday in Midland, Mich.
How running an NFL team is like running a restaurant | Chef Emeril Lagasse
They defeated Matilda Castren and Kelly Tan, who birdied four of their last eight holes, including No. 17, but could get no closer, missing a birdie putt on 18. Knight and Szokol, who began the round with a three-shot lead over Castren and Tan, managed three birdies on the back nine.
It's Szokol's first LPGA Tour victory and Knight's second. The U.S. teammates who posted a 61 and 62 in the second and third rounds, concluded with a 65, good for 5-under 257 overall.
Knight spoke afterward about handling the pressure this time around.
"I've had a few close calls this year. I've been in contention a few times, and I really haven't handled the pressure. Kind of let it get to me a little bit. We kind of joked at the beginning of the week. We were, like, Why not win?" Knight said.
"Honestly, Elizabeth, we've been friends for such a long time. I couldn't have asked for anything better than to get the win with her."
Szokol acknowledged the pressure as well.
"There was a lot of pressure. Starting the day with a three-shot lead was a great thing, but everyone was chasing us. In this format, there are a lot of birdies. Matilda and Kelly were playing great and started off really well. Definitely some pressure there. Cheyenne made some amazing putts coming in," Szokol said.
Castren, of Finland, and Tan, of Malaysia, finished the day at 7-under 63 and 258 for the tournament after eight birdies and one bogey. The first-round leaders settled for their second straight runner-up finish at this event.
"I think we both played great," Tan said after the round. "We have good synergy on the course together. If I'm down, she picked me up, or if she was down, I picked her up every day."
Castren echoed those thoughts.
"I think we can both be really happy how we played under the pressure. Obviously we were a few shots back this morning, and we kind of got those back during the round. There's a lot of pressure playing for a win, so we performed," Castren said.
Three teams tied for third. Celine Boutier of France and Yuka Saso of Japan carded an 8-under 62, with eight birdies and no bogeys, to finish at 20-under. Also at 20-under after concluding rounds of 63 were the duos of Jodi Ewart Shadoff of the England and Emma Talley of the United States, and Celine Borge of Norway and Polly Mack of Germany.
Ewart Shadoff and Talley finished in style, with an eagle on No. 18. They also had six birdies and one bogey.
Borge and Mack concluded the day with nine birdies, including five straight on the back nine, but also had two bogeys.
--Field Level Media