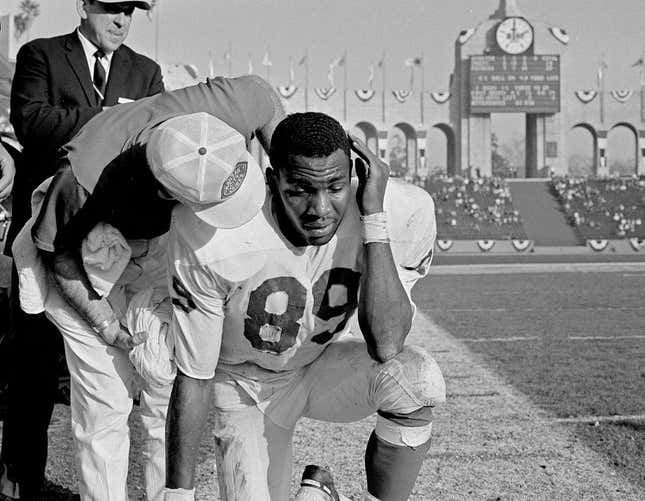 Legendary Kansas City Chiefs receiver Otis Taylor has died after a long battle with Parkinson's disease and dementia. He was 80.
Is Texas or Florida State a bigger national title contender? | Agree to Disagree
The Chiefs said Taylor died on Thursday. He had been dealing with health issues for more than three decades.
Taylor's 11-year career included a memorable touchdown reception in Super Bowl IV when the heavy underdog Chiefs beat the Minnesota Vikings 23-7 on Jan. 11, 1970.
"The Kansas City Chiefs organization is saddened by the passing of Otis Taylor," Kansas City CEO Clark Hunt said in a statement. "My family and I would like to extend our heartfelt condolences to Otis' wife Regina, his sister Odell and the entire Taylor family as we mourn his passing.
"Otis was a Chief throughout his 11-year career, and he played an integral part in the early success of our franchise. He became a Kansas City icon with his signature touchdown in Super Bowl IV, as he helped the Chiefs bring home our first Lombardi Trophy. He was one of the most dynamic receivers of his era, and he helped revolutionize the position.
"Off-the-field, he was kind and dedicated to his community. Our thoughts and prayers are with his family. Otis' legacy will live forever as a member of the Chiefs Hall of Fame."
Taylor's death comes just seven months after quarterback Len Dawson passed away at age 87. Dawson, a Hall of Famer, was Kansas City's quarterback throughout Taylor's career.
Their most famous hook-up came in the Super Bowl IV win over the Vikings when Kansas City recorded a stunning upset.
Dawson threw a short pass to Taylor, who caught it at the Minnesota 40-yard line. Taylor broke a tackle at the 40 and sidestepped another at the 15 en route to the 46-yard touchdown that made it 23-7 in the third quarter.
Taylor still ranks third in Chiefs history with 7,306 yards and 57 receiving touchdowns -- tight ends Tony Gonzalez and Travis Kelce are the only Kansas City players with more of each.
He ranks sixth with 410 receptions in 130 games (102 starts) with the Chiefs from 1965-75.
Taylor twice topped 1,000 yards, including a career-best 1,297 in 1966.
After retiring in 1975, Taylor spent 11 years as a scout with the Chiefs.
Taylor was reportedly diagnosed with Parkinson's disease and dementia in 1990. In 2012, his family sued the NFL, charging the league with being responsible for his health issues.
Taylor reportedly was bedridden and lost the ability to speak in recent years.
--Field Level Media