Kelly's got to be joking, right? The Eagles' rapid-fire first-half offense was so intense, my super is coming by tonight to clean the stains off my ceiling.
Philadelphia ran 53 plays in the first two quarters, the most in more than a decade, and on pace for an NFL record if not for a 19-point halftime lead that necessitated a slowdown to run off the clock. It was glorious and hypnotizing and has the whiff of one of those offensive innovations to which defenses require at least a full season to adjust.
And it wasn't fast enough for Kelly's liking.
"I felt like it was slow, to be honest with you," Kelly said when asked about the first quarter. "We put the ball on the ground too much, we didn't get the ball to the officials, we could have sped things up. ... That's something we need to continue to work on.

It's a question of rhythm and endurance—training camp is one thing, but snapping the ball every 13 seconds or so in a game situation is going to try an offense as much as the defense. Michael Vick said, "I've never been a part of anything like this." He also said, "It's going to be a long season."
Finding the right balance for substitutions will play just as big a role if Philadelphia is to keep rolling. Kelly referenced giving more carries to Bryce Brown and Chris Polk, and rotating his receivers in and out of the game. Fresh legs may be harder to come by on a stout but shallow offensive line, but fourth overall pick Lane Johnson and the threat of Vick scrambling should help some.
G/O Media may get a commission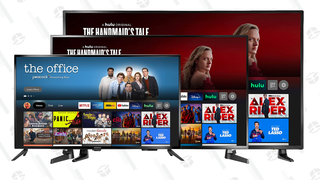 Up to 44% off
Prime Early Access - Insignia Fire TVs
Then there's the stamina of the poor assistants, furiously signaling plays with Philly-themed flash cards.
Finally there's the downshifting. The offense stagnated in the second half, for any number of reasons: tired players, the Redskins' adjustments, or even just what Kelly called going from 90 mph to "driving on city streets."
These are nits to pick (and possibly be exploited later in the season). Worrying if your breakthrough offense can keep up its historic pace is a good problem to have. Getting Michael Vick to slide is a more important one.