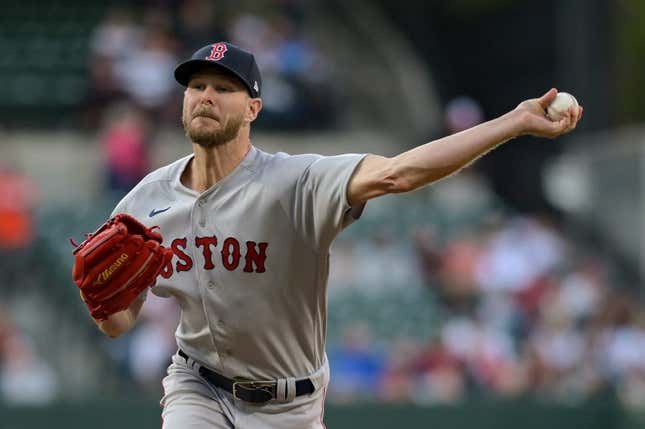 The Boston Red Sox will turn to left-hander Chris Sale as they look to take a three-game series from the visiting Cleveland Guardians on Sunday afternoon
'Soccer fandom is full of gatekeepers' says Ted Lasso actor Brendan Hunt
A win in the rubber game would allow Boston to claim its sixth out of the first nine series.
Sale (1-2, 8.22 ERA) has not won since his second start back on April 6 against Detroit, going 0-2 in three decisions since. He allowed nine hits and five runs in five innings Monday at Baltimore.
The seven-time All-Star is still in the early stages of getting back to his full form after being limited to two starts during an injury-plagued 2022 season.
"I think there's a few things he needs to do to get back to his delivery," Red Sox manager Alex Cora said. "He's a little bit off (with) timing right now. I know (his) extension looks good and all that, but it's how you get to the extension that matters. And right now, he's not doing it the 'right way.'
Sale has walked 10 and allowed five home runs across his 23 innings.
According to the Boston Globe, the veteran lefty's 8.22 ERA is the highest of any five-start span in his career.
"People only care so much about trying hard, working hard," Sale said. "It's got to be out there when the lights flick on. I've got to step up. I've got to find a way."
Sale is 5-8 with a 4.76 ERA in 31 career appearances (20 starts) against Cleveland.
Opposing will be Cleveland's talented young southpaw Logan Allen (1-0, 1.50), who struck out eight in six innings of one-run ball last Sunday during his major league debut against Miami.
"(I'm) definitely excited to be on a team where so many young guys are getting opportunities to win games, and to see the success that we're having and just doing our best to contribute to that," Allen said.
Boston will be looking to build upon a season-high 16-hit effort during Saturday's 8-7, 10-inning win.
Alex Verdugo hit a walk-off single while Christian Arroyo and Connor Wong each had three hits to lead the Red Sox, who led 6-1 after six innings before Cleveland stormed back to force extras
It was a rough day for a Boston bullpen that had been an area of strength. Kenley Jansen blew his first save of the season after Richard Bleier and Ryan Brasier allowed runs following Brayan Bello's strong five-inning outing.
"I am concerned," Cora said. "We've got to be better."
After averaging just 3.8 runs per game entering the series, the Guardians have shown significant signs of offensive improvement through the first two days of the series
They scored three runs over the first two innings of Friday's 5-2 win, then banged out 14 hits in the wild Saturday setback.
"I thought we did a tremendous job of answering back, especially putting up four (runs in the seventh)," center fielder Myles Straw said. "We fight. At 6-1, we could have (given) up. Sure enough, it came down to the last hitter."
Leadoff-hitting outfielder Steven Kwan has logged at least three hits twice in five games and reached base in nine straight.
Josh Naylor's second three-hit game of the season was punctuated by a three-run double during the big seventh inning.
"That was a hard game to win with the way it started out," Guardians manager Terry Francona said. "We had a chance.
--Field Level Media