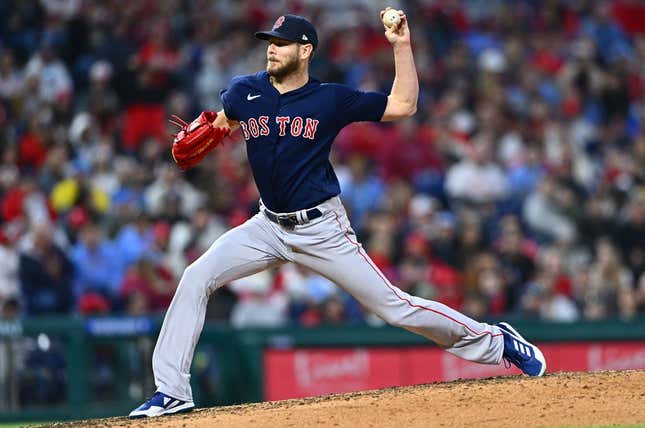 Chris Sale is back. And the Boston Red Sox hope it stays that way
In his most recent start, the oft-injured left-hander held the St. Louis Cardinals to one run on three hits and a walk with nine strikeouts over eight innings at Fenway Park last Saturday. It marked the third time in his past five starts that Sale allowed only one run in an outing, although he walked away with a no-decision.
Air Jordans are more American than McDonald's French fries | Deon Cole's Ultimate Sports Fantasy
Over those five starts, Sale has given up 11 runs on 25 hits and five walks with 35 strikeouts in 31 1/3 innings for a 3.16 ERA. Sale is 2-1 in those starts, and the Red Sox are 3-2. Overall, Boston is 5-3 in Sale's eight starts this season -- which is only three starts less than his total over the past three seasons
Now, Sale (3-2, 5.40 ERA) will make his ninth start of 2023 on Saturday night in San Diego against Padres right-hander Joe Musgrove (1-1, 6.63)
"His fastball is playing," Boston manager Alex Cora said recently of Sale. "Good sliders. He's trending in the right direction. The fastball is ticking up [to 99 mph], and it's exciting to see. He feels good body-wise, and that's good to see.
"He wants to compete. He wants to dominate. He's 34, but his arm is younger."
On Saturday, he'll face the perfect team to dominate. The Padres have lost three in a row and 10 of their last 12 games. And Friday afternoon, Manny Machado, the Padres' emotional leader, went on the 10-day disabled list with a hairline fracture in his left hand -- the result of getting hit on the hand by a fastball from the Royals' Aroldis Chapman
"When you score only one run, it is tough," said Padres manager Bob Melvin late Friday following a 6-1 loss to the Red Sox in the series opener. "Tomorrow is important; we have Musgrove going. But until our offense does something, it's tough. We have to keep working on it. Where we are right now, it might be awhile. The Red Sox got clutch hits in key situations tonight. We didn't.
It's a recurring theme.
The Red Sox were 2-for-5 with runners in scoring position Friday -- the hits being a two-run double by Rob Refsnyder and a three-run homer by Rafael Devers in a five-run third inning. For the season, the Red Sox have a .295 average in RISP situations
The Padres were 0-for-3 with runners in scoring position on Friday, including a foul popout with the bases loaded. Overall, the Padres are hitting .194 in RISP situations this season -- last in the major leagues
Musgrove will make his fifth start of the season Saturday. He didn't make his debut until April 22 after suffering a fracture to the big toe of his left foot during a spring training workout. And his second start came in the thin air of Mexico City, where he gave up seven runs in 3 1/3 innings on six hits, including three homers.
His two most recent starts -- both against the Los Angeles Dodgers this month -- didn't represent a total return to form. He gave up five runs (four earned) on 10 hits and seven walks with 10 strikeouts in 10 2/3 innings.
--Field Level Media