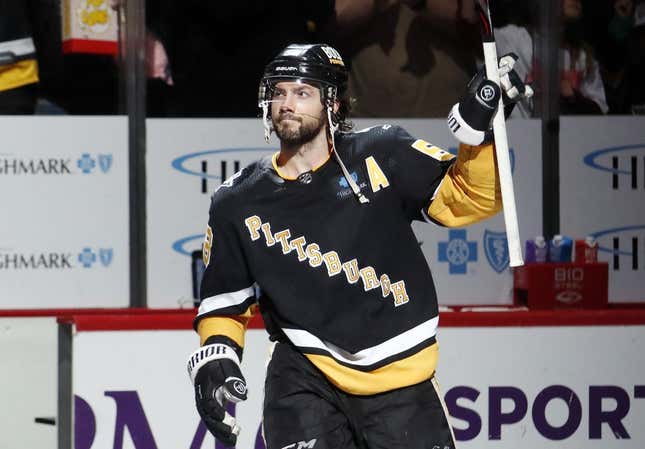 Arizona Coyotes forward Clayton Keller, Pittsburgh Penguins defenseman Kris Letang and Chicago Blackhawks goalie Alex Stalock were named the finalists for the 2022-23 Bill Masterton Memorial Trophy on Tuesday.
Air Jordans are more American than McDonald's French fries | Deon Cole's Ultimate Sports Fantasy
The award is given annually to the player "who best exemplifies the qualities of perseverance, sportsmanship and dedication to hockey."
Keller was the Coyotes' leading scorer in 2021-22 but saw his season cut short when he suffered a fractured femur on March 30, 2022. Surgery and six months of rehab later, he made it back in time for the start of the new season, played in all 82 games and set career highs in goals (37), assists (49) and total points (86).
The 24-year-old was named an All-Star. He has amassed 342 points (133 goals, 209 assists) in 442 career games over parts of seven seasons with Arizona.
Letang, 36, suffered the second stroke of his life in late November and dealt with the passing of his father about four weeks later. He still managed to play in 64 games, becoming the third Penguin to surpass the 1,000 career games mark, and posted 41 points (12 goals, 29 assists).
Letang ranked 10th in the NHL in average time on ice (24:51).
Stalock, 35, played a total of one NHL game in a two-year span; he had missed all of 2020-21 due to myocarditis after contracting COVID-19 and suited up just once for the San Jose Sharks in 2021-22. He signed with the Blackhawks last summer in free agency and made the team, battling through concussions and a vision problem called oculomotor dysfunction.
Stalock appeared in 27 games for the Blackhawks and finished the season 9-15-2 with a .908 save percentage and a 3.01 goals-against average.
The Masterton winner and other award winners will be announced during the NHL Awards show on June 26 in Nashville, Tenn.
--Field Level Media