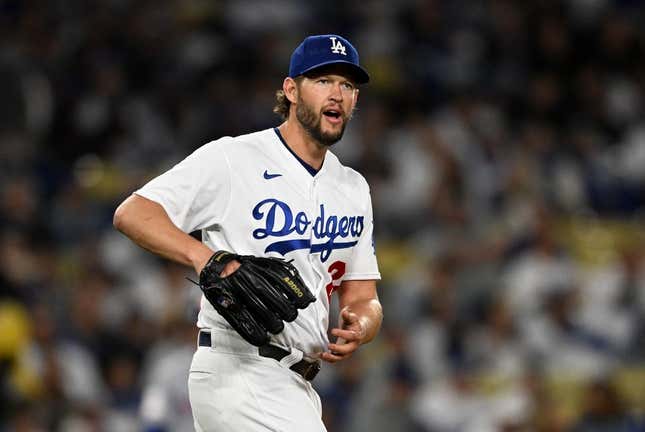 A milestone achievement just highlighted another strong start to the season for Los Angeles Dodgers veteran Clayton Kershaw
How running an NFL team is like running a restaurant | Chef Emeril Lagasse
Meanwhile, Marcus Stroman has been even better for the Chicago Cubs in 2023
After recording his 200th career win, Kershaw will try to help the visiting Dodgers beat Stroman and record a series victory in a four-game set against the Cubs on Sunday afternoon
In his 16th season, Kershaw (3-1, 2.52 ERA) joined Don Sutton and Don Drysdale as the only pitchers to win at least 200 games as a member of the Dodgers. The 35-year-old left-hander did so after scattering three hits and striking out nine without a walk over seven innings of Tuesday's 5-0 victory against the New York Mets
"The goal is to win," said Kershaw, whose .694 career winning percentage is the best among those with at least 200 wins in the modern era. "So, for me to be able to do that 200 times is just a product of being on some great teams."
Kershaw is 9-4 with a 2.62 ERA in 15 career regular-season starts against the Cubs, but 2-3 with a 3.46 ERA in five at Wrigley Field. Last July, the three-time Cy Young Award winner squared off against Stroman at Dodger Stadium, which resulted in a 4-2 win for Los Angeles
Stroman (2-1, 0.75) lasted four innings but did not allow a run in that contest.
This season, he has yielded just two runs - both against Seattle on April 12 -- in 24 innings of his four starts this season. The right-hander and NL ERA leader among starters yielded two hits with two walks and struck out five over six innings of Chicago's 4-0 victory at the Oakland Athletics on Tuesday.
"I just feel good -- mentally, physically, emotionally," Stroman said. "I just feel like I'm very in tune right now, on and off the field."
He's 1-0 with a 2.12 ERA in three career starts vs. Los Angeles, but this will be his first against the Dodgers at Wrigley Field. Los Angeles' David Peralta, who is 4-for-8 with a homer vs. Stroman, is batting .357 in his last 10 games at Wrigley Field
Dodger teammate Max Muncy is 0-for-5 vs. Stroman, but he has four of his 10 home runs this season in six games against the Cubs. Meanwhile, Los Angeles rookie James Outman is 6-for-13 with four homers and nine RBIs through the first three games of this series
Muncy and Outman each homered twice and combined for seven RBIs as the Dodgers posted a 9-4 victory on Saturday. Los Angeles has won two of the first three games in the series
Nico Hoerner has a homer in each of the last two games for the Cubs, who had won four straight and 10 of 13 entering this series. He's 15-for-34 with eight RBIs during a seven-game hitting streak, and 10-for-26 with seven RBIs vs. Los Angeles in 2023
Hoerner and Seiya Suzuki are a combined 6-for-11 vs. Kershaw. Eric Hosmer, who had an RBI double on Saturday, is batting .316 with a homer against Kershaw.
--Field Level Media