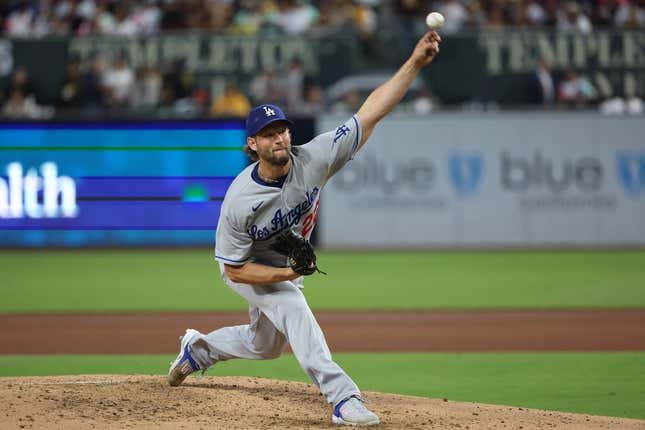 The Los Angeles Dodgers hope Clayton Kershaw can continue his string of successful visits to Milwaukee when they close out the three-game series against the Brewers on Wednesday afternoon
Can the Florida Panthers make a comeback? | Agree to Disagree
Kershaw (5-2, 2.53 ERA) will be opposed by Wade Miley (3-1, 2.31) in a matchup of veteran left-handers.
The Dodgers evened the series at a game apiece with a 6-2 victory on Tuesday. Seven relievers combined to cover the final eight innings after Los Angeles starter Noah Syndergaard left after a scoreless first with a cut on his right index finger
Mookie Betts and Will Smith hit solo homers off starter Brewers starter Eric Lauer, who entered with a 7-1 career mark and a 2.37 ERA in 11 starts vs. the Dodgers. Miguel Vargas added a two-run homer in the sixth
The Dodgers are 14-4 when hitting at least two homers this season
Betts opened the game with his 39th career leadoff homer to continue his hot streak. Over his past 11 games, Betts is batting .295 (13-for-44) with three doubles, four homers, 10 RBIs, six walks and seven runs.
On the down side for the Dodgers, Syndergaard might end up on the injured list, manager Dave Roberts said after the game
"I think we'll know more in the next couple days," Roberts said. "He's had (blister issues) and has put stuff on it to keep it at bay, tonight it just didn't take. That's more of a training staff question, but certainly the IL is a possibility. But we want to give Noah and the training staff some time before they make that decision."
Kershaw, the first NL pitcher to reach five wins this season, will be making his 17th career start vs. the Brewers. He is 6-5 with a 3.09 ERA against the Brewers overall, but 4-1 with a 1.57 ERA in eight starts at Milwaukee
In his latest outing, Kershaw allowed four runs on eight hits and five walks in 4 2/3 innings during a 5-2 loss to the San Diego Padres on Friday.
"I think the thing that was most uncharacteristic is the walks," Roberts said after that contest.
Kershaw also pointed to his lack of command against the Padres.
"You just can't walk five guys," he said. "That's just unacceptable. It's not a good recipe to win games. Just try not to do that next time."
Miley has been the Brewers' most consistent starter. In his latest outing, on Thursday at Colorado, Miley began with six scoreless innings but gave up three straight hits to start the seventh and was pulled. He wound up charged with three runs given up in six-plus innings and did not get the decision in Milwaukee's 9-6 loss to the Rockies
"He threw the ball well," Brewers manager Craig Counsell said after that game. "He's thrown the ball well all year. He maybe made two mistakes today. ... Other than that, he was brilliant.
Miley has allowed two runs or fewer in four of his six starts. Opponents are batting .233 against him.
Miley is 4-6 with a 4.03 ERA in 16 career games, including 15 starts, against the Dodgers
--Field Level Media