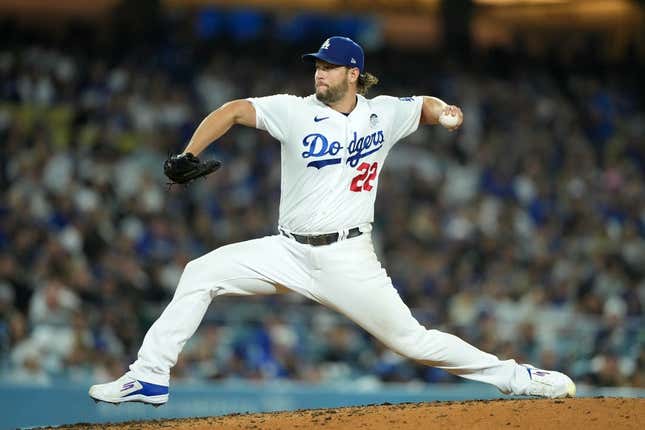 While the Los Angeles Dodgers continue to have pitching issues unmatched in the era of manager Dave Roberts, there are some positive signs
How running an NFL team is like running a restaurant | Chef Emeril Lagasse
The Dodgers will face the Chicago White Sox with left-hander Clayton Kershaw (8-4, 2.95 ERA) on the mound Wednesday, providing not only a starter Roberts can trust, but a day to possibly give an inconsistent bullpen another break after teammate Tony Gonsolin went six scoreless innings Tuesday
The White Sox will counter with right-hander Mike Clevinger (3-4, 4.19), who knows a little something about the Dodgers from his one season-plus with the San Diego Padres
Injuries have the Dodgers down to four starters of late and two of them are rookies. In addition, the bullpen entered Tuesday's series opener against the White Sox with a 4.76 ERA, next to last in the National League and ahead of only the Washington Nationals
"In totality, I think the reliever situation, we have to get ahead, we have to get strike one," Roberts said. "And when we do get count leverage, we're not putting guys away. ... I think for me, we have to be better. These are the guys we have, they have performed before and I'm going to keep running them out there and expect them to be better."
In a 5-1 victory over the White Sox on Tuesday, Dodgers relievers did their part by giving up a lone run over three innings
Kershaw can continue to help the bullpen with an extended outing Tuesday. He has pitched seven innings in five of his 13 starts, with two of those in his past two appearances.
The veteran did not give up a run over seven innings against the Cincinnati Reds on Thursday and matched a season high with nine strikeouts. The 6-0 Dodgers victory was the team's only one of last week's series, after the bullpen blew two other late leads
In four career starts against the White Sox, Kershaw is 2-1 with a 2.88 ERA, last facing them in 2017 when he went seven scoreless innings
Clevinger has faced the Dodgers three times in his career, all in 2022 as a member of the Padres. It did not go well as he went 0-2 with a 9.69 ERA in those outings. In two starts against the Dodgers in a six-day span last September, Clevinger gave up a combined nine runs on nine hits and three walks in 8 1/3 inning
"It's all about game planning, execution and in at-bat adjustments pitch to pitch," White Sox manager Pedro Grifol said when asked about Clevinger gaining any benefit from his knowledge of the Dodgers. "Once you have that kind of familiarity with these guys, or with anybody, it's all about making adjustments on the mound.
The Chicago offense managed just three hits Tuesday, and the White Sox have scored one run or less in three of their past five games. Former Dodger Yasmani Grandal prevented a shutout for the White Sox with a sacrifice fly in the ninth inning in the opener
The White Sox have lost three consecutive games after dropping the opener of a six-game road trip, which also takes them to Seattle
--Field Level Media