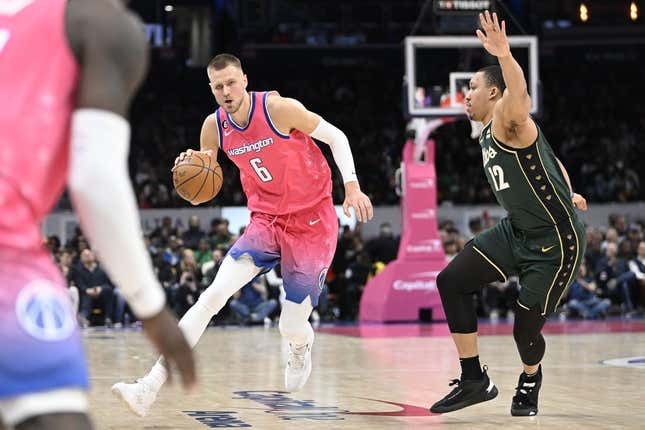 The Washington Wizards will continue their last-gasp playoff push against the visiting Orlando Magic on Friday
'Soccer fandom is full of gatekeepers' says Ted Lasso actor Brendan Hunt
The Wizards (34-42) have won two of their past three games to move to within two games of the Chicago Bulls (36-40) for the 10th -- and final -- playoff spot in the Eastern Conference. The Magic (32-44), who ended a three-game winning streak with a 113-108 loss at Memphis on Tuesday, are four games out of the last spot
Washington, which has six games left, is coming off a 130-111 win over the visiting Boston Celtics on Tuesday behind Kristaps Porzingis' 32 points, 13 rebounds and six assists. Deni Avdija added a double-double with a career-high 25 points and 10 rebounds to go along with five assists, while Monte Morris finished with 19 points and nine assists.
Corey Kispert and Kendrick Nunn added 15 and 12 points, respectively, for the Wizards, who were without Bradley Beal (sore left knee) and Kyle Kuzma (sprained right ankle)
"Probably the best pace, for 36 to 40 minutes, that we've seen all year," Wizards coach Wes Unseld Jr. said. "After makes, misses (Wizards) were able to accumulate quite a few fast break points. Not all those were just off of misses. So being able to play with pace and kind of get stuff early in the clock I thought helped us.
Beal, who averages 23.2 points and 5.4 assists per game, and Kuzma (21.2 points, 7.2 rebounds, 3.7 assists), are game-time decisions against Orlando. Unseld said hasn't decided if he will shut the duo down the rest of the season.
The Magic, who also have six games remaining, will be hard-pressed to make the playoffs
Orlando ended its three-game winning streak -- its longest since winning a season-high six straight from Dec. 7-Dec. 18 -- after its rally against the Grizzlies came up short. The Magic cut a 23-point third-quarter deficit to 105-100 with 38 seconds remaining before the Grizzlies secured the win at the free-throw line
The Magic, who were outscored 32-15 in the opening quarter, were led by Paolo Banchero's 24 points, 11 rebounds and five assists, while Franz Wagner added 25 points
"Being ready to go from the beginning of the game. That's the biggest key," Magic coach Jamahl Mosley said. "Knowing (the Grizzlies) are a playoff team that's fighting for a championship, they're going to come out and set the tone early. Our guys felt that right off the bat.
This will be the final meeting between the Magic and Wizards this season
The Wizards knocked off host Orlando 119-100 behind Porzingis' 30 points and 13 rebounds on Dec. 30 before beating the visiting Magic 138-118 on Jan. 21
The Magic won the most recent meeting 122-112 on March 21 for their first victory in their past eight games against the Wizards. Banchero had 18 points, nine rebounds and eight assists, while the Wizards were led by Porzingis' 30 points
--Field Level Media