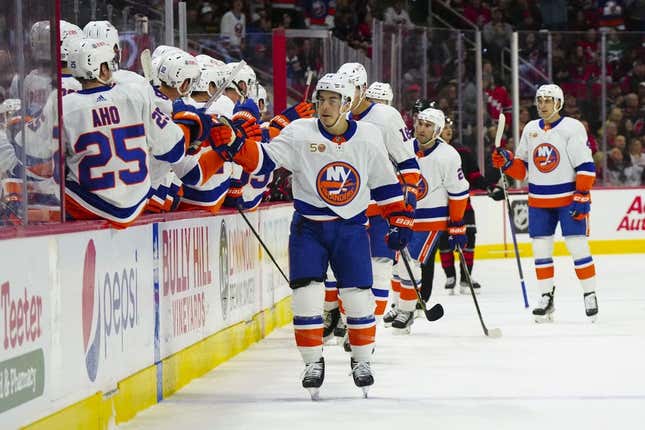 While the Tampa Bay Lightning have secured a postseason berth, the New York Islanders are clinging to a wild-card spot ahead of the teams' game Thursday night in Elmont, N.Y
Do the Miami Heat actually have home court advantage? | Keep it a Buck(et)
The Lightning and Islanders will face off for the second time in less than a week. On Saturday, Tampa Bay scored three goals in the second period and cruised to a 5-0 home win as part of a lost back-to-back for the Islanders, who then lost 2-1 at Carolina on Sunday
Tampa Bay (45-27-6, 96 points), which fell 6-3 to the host New York Rangers on Wednesday, heads just across the Nassau County line locked into a first-round postseason matchup with the Toronto Maple Leafs. The third-place Lightning are six points behind Toronto, which has a game in hand
Meanwhile, the Islanders (39-30-9, 87 points) currently hold the second Eastern Conference wild-card spot, which would mean a first-round encounter with the NHL-best Boston Bruins. New York is tied in points with the Florida Panthers but would lose out on the tiebreaker. The Islanders have 33 regulation wins, one fewer than the Panthers
The Islanders avoided falling out of the wild-card spot thanks to the New Jersey Devils, who rolled to a 5-1 win over Pittsburgh on Tuesday. That kept the Penguins one point behind the Islanders heading into Pittsburgh's matchup with the visiting Minnesota Wild on Thursday
Tampa Bay, which eliminated the Islanders in the league semifinals following the 2019-20 and 2020-21 seasons, is 3-5-0 over its past eight games. Before losing to the Rangers, the Lightning outscored Carolina, Washington and the Islanders 14-1 in a three-game winning streak
On Wednesday, the Lightning allowed the first three goals before Alex Killorn and Darren Raddysh scored. Tampa Bay again made it a one-goal game at 4-3 when Brandon Hagel scored about midway through the second period, but Lightning goalie Andrei Vasilevskiy allowed two goals in a span of 2:11 in the third period
"In the end, you just can't let bad habits creep into your game just because you know you're not going anywhere in the standings," Tampa Bay coach Jon Cooper said after his team took 11 penalties totaling 42 minutes. "It was a 4-3 game in the end (before) we just ran out of gas. Hopefully we're going to be a little bit better (Thursday)."
New York is 5-5-1 in its past 11 games due in part to an inconsistent offense. The Islanders scored six goals against the Anaheim Ducks on March 15, seven against Toronto on March 21 and five against New Jersey on March 27, but they have been held to two goals or fewer in four of their past five games
On Sunday, the Hurricanes outshot the Islanders 35-22. Jean-Gabriel Pageau scored New York's lone goal late in the first period
"I just view it as an opportunity and as excitement," New York coach Lane Lambert said Wednesday of the playoff race. "It's a long season. It's an 82-game season and it's coming down to the wire. And so what better position to be in right now? Obviously if you could have wrapped up a playoff spot, great. But we're in the mix, and we're looking forward to it."
Tampa Bay has won its past six regular-season meetings against the Islanders by a combined 27-10 margin
--Field Level Media