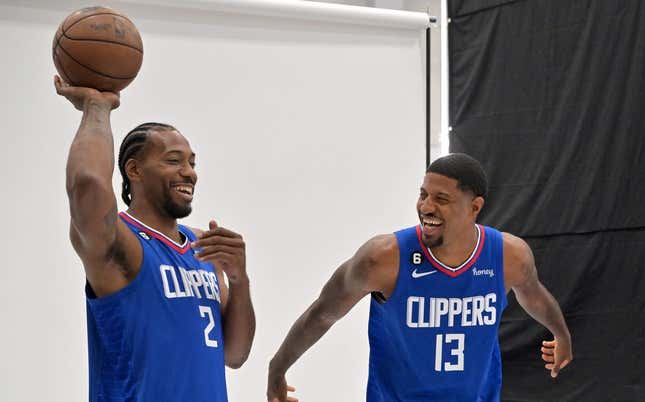 Los Angeles Clippers president Lawrence Frank said Thursday that the team planned to keep injury-prone star players Kawhi Leonard and Paul George as the core of their team
Does Jimmy Butler have the best NBA Finals origin story? | Agree to Disagree
Frank addressed reporters after the fifth-seeded Clippers bowed out of the playoffs in a first-round series loss in five games to the Phoenix Suns
At the same time, Frank admitted the disappointment of falling well short of the franchise's championship aspirations, even in spite of Leonard's and George's injuries.
"What I don't want to do is have the injuries or how hard we fought in the postseason to mask a disappointing regular season," Frank said. "We have to be honest with ourselves and we have to look in the mirror. It starts with me and we have to get back to honoring and respecting the regular season. We have to compete harder, more consistently, and we have to earn it."
The Clippers, known for load-managing their stars more than most NBA teams, got 56 games out of George and 52 from Leonard during the regular season. George missed the final nine games of the season and the full series against Phoenix with a sprained right knee, and Leonard was forced out after two games of the series after tearing his meniscus in his right knee
Leonard, who missed all of the 2021-22 season after undergoing offseason surgery to repair a torn right ACL, has not played more than 57 games in a season since coming to Los Angeles in 2019. George's 56 games this season were a personal best in his four years with the team.
But with both players eligible for extensions during the upcoming offseason, the Clippers aren't looking for alternate plans
"When we traded for Paul and signed Kawhi as a free agent in 2019, it wasn't for one or two years, wasn't three or four," Frank said. "Every year you have those guys, they give you a chance. And so it's about surrounding those guys to continue to improve your chances.
"Kawhi's a ceiling raiser. When you study past NBA champions, they have a top-five guy on their team, and Kawhi has shown that when healthy he can be the best player in the world. Paul is an eight-time All-Star now. So we're going to continue to build around those guys and look for every which way (to improve around them)."
Frank said Leonard's ACL is firmly intact, and the team will determine the treatment Leonard will need this offseason.
Leonard, who has averaged 25.3 points, 6.7 rebounds and 4.7 assists per game in 161 games for the Clippers, is eligible for an extension on July 12. George, who has averaged 23.2 points, 6.3 rebounds and 4.9 assists in 189 games with the club, can sign an extension starting Sept. 1
"Those guys are great players and they're great partners and we want to keep them as Clippers for a long time," Frank said. "And so we'll look forward to those conversations. And the No. 1 goal is how can we build a sustainable championship team? And those guys have been great partners, so at the appropriate time, we look forward to sitting down with them.
--Field Level Media