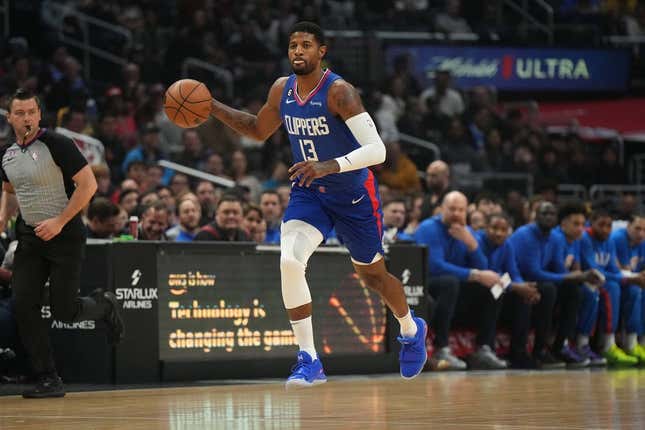 Paul George is making progress in his recovery from a right knee injury but Clippers coach Tyronn Lue said the team will take the cautious approach with the eight-time All-Star small forward
Air Jordans are more American than McDonald's French fries | Deon Cole's Ultimate Sports Fantasy
George injured the knee during a March 21 game against the Oklahoma City Thunder. He won't be on the court when the fifth-seeded Clippers open a first-round playoff series against the fourth-seeded Phoenix Suns on Sunday
"We're definitely not going to do anything to hurt PG," Clippers coach Tyronn Lue told reporters on Friday. "Even if he does try to come back and he's not right, we're not going to let him go because we're not going to let him injure himself and make it worse than what it really is
"When he comes back, we'll make sure he's close to 100 percent without being able to injure himself even more."
George was shooting 3-pointers and working hard at the Clippers' practice facility on Friday but the club still hasn't revealed a timetable for his return. George has yet to return to practice
Los Angeles would love to eventually have George at some point in the best-of-seven series against the Suns, especially with four-time NBA scoring champion Kevin Durant being the small forward for Phoenix.
"It's encouraging to see," Lue said of watching George shoot 3-pointers. "Especially from the nasty blow that he took. Thought it could be a lot worse than what it was. So just seeing him be able to do some things and actually starting to feel better, that's good to see because you don't want to see your players get hurt and get injured, and it could have been a lot worse than what it was."
George averaged 23.8 points, 6.1 rebounds and 5.1 assists in 56 games this season.
At least Los Angeles will have two-time NBA Finals MVP Kawhi Leonard on the floor. Leonard will be playing in his first playoff game in 22 months since tearing his right ACL during a playoff game against the Utah Jazz.
Leonard said the Clippers can't be worrying about not having George in the opener
"He's out," Leonard said of George. "But we've still got other players on the team that can help. It's just like any other game really. It's another basketball game. There's just a title on it now. You have a chance to get an ultimate goal for a team. I mean, that's just the focus level.
"It's not just starting now. It's been like that throughout the year, throughout my playing career, trying to play both ends, and just hopefully there's carryover."
--Field Level Media