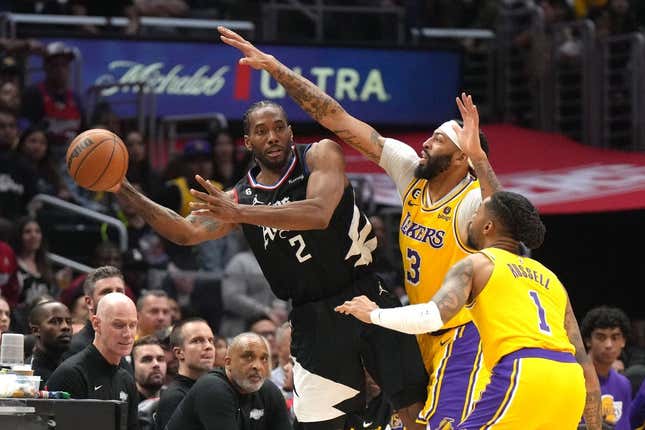 The Los Angeles Clippers look to solidify their spot in the NBA playoffs on Saturday when they host the sliding Portland Trail Blazers
Los Angeles (42-38) can still finish as high as the fifth seed by winning the last two games -- wrapping up at Phoenix on Sunday afternoon -- but can also slide to as low as ninth.
The Clippers scored a significant victory their last time out, ending a two-game skid Wednesday by beating the Lakers 125-118. Kawhi Leonard scored 25 points, Ivica Zubac recorded a 17-point, 13-rebound double-double, and Norman Powell erupted for 27 points off the bench
That gave them an edge on the Lakers and Pelicans in their bid to earn a top-six seed, avoiding the play-in tournament.
"We're building that identity and using different people," Powell told the Los Angeles Times following the win. "That's the biggest thing for us. We're such a deep team and trying to utilize everybody's specific skill sets, and I think we're starting to do that.
"Not saying that we didn't trust, but the trust is coming more."
Los Angeles has been without Paul George and his team-high 23.8-point average since March 23 due to a right knee injury.
Leonard, the Clippers' second-leading scorer at 23.7 points per game, went for 40 points and eight rebounds in a loss last week to New Orleans. He notched 24 points the last time Los Angeles saw Portland -- a 117-102 Clippers win in Portland on March 19
That night marked the penultimate appearance of Blazers standout guard Damian Lillard this season. Lillard scored 21 points on 4-of-17 shooting with nine assists in the loss and has been shut down since the following game on March 22.
Portland (33-47) has employed a young lineup in recent weeks since missing being eliminated from the playoffs, Thursday starting a quintet of John Butler, Jeenathan Williams, Drew Eubanks, Skylar Mays and Trendon Watford in a 129-127 loss at San Antonio.
Eubanks scored 23 points, while Kevin Knox came off the bench for a season-high 24 points.
"These guys don't even know each other, to be honest with you," Portland coach Chauncey Billups said. "Playing with two new point guards, they're not even familiar yet with our stuff. But I was telling them, 'Just play fast, man.' "
In Lillard's point-guard role, Portland ran with Mays (11 points) and Shaquille Harrison (10 points and nine assists off the bench).
The Blazers have also been without Anfernee Simons (a 21.1-point per game scorer) since March 19. His last appearance was a 16-point outing in Portland's loss to the Clippers
Los Angeles can complete a season sweep with a win in Saturday's matinee. In addition to the March 19 victory, the Clippers won a 118-112 decision on Nov. 29 behind 32 points from Powell, his season high
Sunday, the Clippers close out the regular season with a potential preview of their first-round playoff series when they travel to Phoenix. The Suns clinched the fourth seed earlier in the week
--Field Level Media