Clippers color man Michael Smith and head coach Doc Rivers shared a moment Monday evening during the LA's 137-118 victory over the Rockets. Before the end of the first half, Blake Griffin was called for an offensive foul as he tried to move past Aaron Brooks to the basket for what likely would have been a life-changing dunk for all of us. Smith watched on incredulously as the referee explained the call at the scorer's table and then looked over at Doc Rivers, voicing his displeasure with the call.
Here's the play that Smith and Rivers disputed.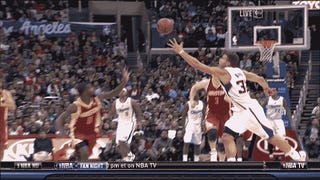 There's at least some fuckin' way. But still, come on guy, Blake Griffin dunks.
[NBA TV]