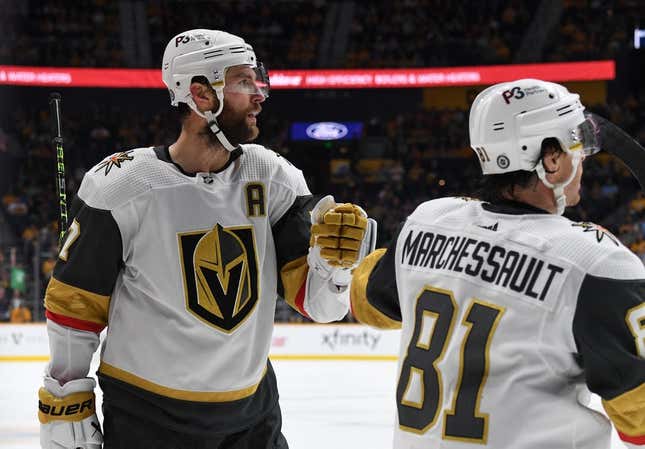 The Vegas Golden Knights will try to take another step toward the third Pacific Division championship in the team's six-year history on Thursday night when they host the Los Angeles Kings in Las Vegas
Vegas (48-22-8, 104 points) entered Wednesday's action with a three-point lead over the Edmonton Oilers (46-23-9, 101 points) and a four-point advantage over the Kings (45-23-10, 100 points) with four games remaining
The Golden Knights earned five of a possible six points during a tough stretch of three games in four nights that featured a home-and-home with the Minnesota Wild followed by a road contest at Nashville on Tuesday
Vegas swept the Wild, winning 4-1 on Saturday in Las Vegas and 4-3 in a shootout on Monday in Saint Paul, Minn., but lost to the Predators in overtime, 3-2, in the second game of a back-to-back.
Defenseman Alex Pietrangelo scored both goals against Nashville. Cody Glass, the first selection in Golden Knights franchise history in the 2017 NHL Draft, came back to haunt his old team with the game-winner in overtime when his cross-crease pass deflected off the skate of defenseman Brayden McNabb and past goaltender Jonathan Quick
"Sometimes it's just not meant to be," Pietrangelo said. "I thought we poured a lot in on a back-to-back. We got in really late. You have to be proud of the effort. We obviously wanted to win but something to build off of here. I don't think we can go home super disappointed."
The game with Los Angeles will be the sixth game in 10 days for the Golden Knights, with three of those contests coming on the road
"It's a pretty ridiculous schedule that we've had lately and another big one on Thursday against L.A.," Pietrangelo said. "And then we get back on a plane and play an afternoon game (at Dallas) 48 hours later. It's been a grind here this last little bit. I think we're pouring a lot in here."
Pietrangelo will get no sympathy from Los Angeles coach Todd McLellan. The Kings just finished a span that saw them play seven games in 11 days capped by a 3-1 loss to second-place Edmonton on Tuesday in Los Angeles
Leon Draisaitl scored a power-play goal with 7:20 left to break a 1-1 tie and enable the Oilers, who are 10-0-1 in their last 11 games, to leapfrog the Kings to grab second place
"This was the seventh game in 11 nights for our team," McLellan said. "I thought we were working hard but the gas tanks weren't quite where they need to be so it's something we also have to consider as we move forward, making sure we get the right rest."
After the game with the Golden Knights, the Kings return to Southern California for home games against Colorado on Saturday and Vancouver on Monday before finishing the regular season at Anaheim on April 13
"I think all of those intangibles that you can't open up the newspaper and read are at a fairly high point with our team right now," McLellan said. "The focus is there, the attention to detail is there quite a bit, the drive to win, the game management. We're in a good spot. We have to continue to build on that and make sure that we're keeping our gas tanks full."
--Field Level Media