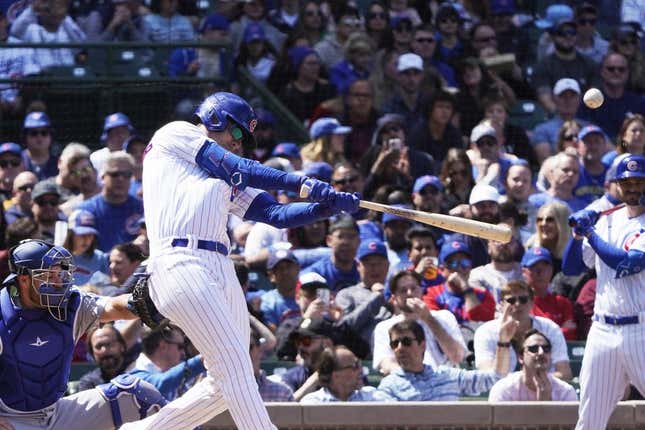 Cody Bellinger is thriving against his former team, the Los Angeles Dodgers, a big reason he is enjoying a solid start to his Chicago Cubs tenure
Chris Paul should ride the bench next season | Keep it a Buck(et)
Bellinger looks to stay hot against the Dodgers when the teams continue their four-game set on Saturday in Chicago
After breaking into the majors with Los Angeles in 2017, Bellinger was a two-time All-Star, a Gold Glove Award winner, the 2019 National League MVP and a World Series champion during his six seasons with the Dodgers. However, due to various circumstances, he hit .203 with 41 homers in his final three seasons, and he was not offered a deal to return for 2023
"It didn't end how anyone really expected it to end, but that's life," Bellinger said.
The Cubs, though, gave Bellinger a one-year deal in December. After going 0-for-11 in his first three games this season, he is batting .355 (22-for-62) with five home runs and 13 RBIs in 16 games since. He went deep for one of his two hits during Chicago's 13-0 victory over Los Angeles on Friday, and he is hitting .353 (6-for-17) with three of his homers against his former club
Meanwhile, new teammate Patrick Wisdom has hit four of his nine homers this season against the Dodgers, helping Chicago win 11 of its past 15 games. The Cubs tied a franchise record by scoring at least 10 runs six times through the first 19 games
Nico Hoerner, who went 4-for-5 with a three-run homer and four RBIs to help Chicago even the series on Friday, is 13-for-29 (.448) during a six-game hitting streak.
All three are likely to get their first look at hard-throwing scheduled Los Angeles starter Dustin May (1-1, 3.00 ERA) on Saturday.
May allowed three runs and seven hits over 18 1/3 innings in his first three starts this season. Then on Monday against the New York Mets, the right-hander was tagged for five runs and eight hits in 5 2/3 innings during the Dodgers' 8-6 home defeat
"Quality of execution was not that great," May said. "I need to make better quality throws. ... I was getting them late in counts, just wasn't finishing them off. Got to work (on) that."
After opening the series with a 6-2 win on Thursday, the Dodgers were stymied Friday by Chicago's Drew Smyly, who retired the first 21 batters he faced until yielding David Peralta's infield single to open the eighth. That was the only hit, and one of three baserunners, for Los Angeles, which is 5-9 since winning three straight from April 3-6
The Dodgers are slated to get their first look at scheduled Cubs starter Hayden Wesneski (1-0, 6.23). The right-hander allowed 10 runs, eight earned, and six walks over six innings during his first two starts, then yielded just a run and five hits while striking out seven without a walk in seven innings en route to a 10-1 victory over the Oakland A's on Monday
"This is definitely a start you can build on," Wesneski said. "You see the results, but the other four days you have to figure out what you want to work on and what works for you."
Peralta is 4-for-7 in his past three games. Since July 2021, he is 9-for-19 (.474) with two homers and five walks during his past seven games at Wrigley Field.
--Field Level Media