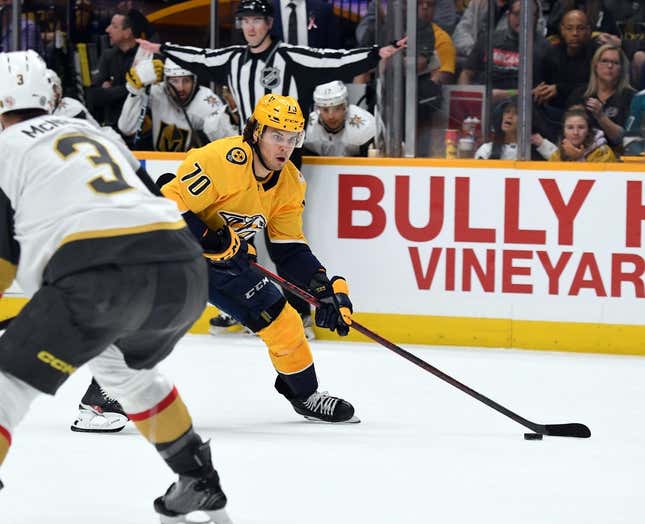 Cody Glass scored a power-play goal at 3:30 of overtime to lift the Nashville Predators to a 3-2 win against the visiting Vegas Golden Knights on Tuesday night
Bass' ERA stinks, but not compared to who he is off the mound | Worst of the Week Countdown
Tommy Novak had two goals and an assist, Glass finished with two points and Kevin Lankinen made 30 saves for the Predators (39-30-8, 86 points). Nashville moved within three points of the Winnipeg Jets for the second and final Western Conference wild-card spot with five games left
Alex Pietrangelo scored two goals and Jonathan Quick made 24 saves for the Golden Knights (48-22-8, 104 points), who lead the Pacific Division
Novak gave the Predators a 1-0 lead at 6:50 of the first period, scoring on a breakaway off a long stretch pass from Luke Evangelista
Novak scored again during a power play to make it 2-0 at 13:08 of the opening period. The puck went into the slot and caromed around before coming out to Novak arriving through the left circle, and he scored with a one-timer.
Rasmus Asplund and Ryan McDonagh committed minor penalties for Nashville 14 seconds apart later in the opening period, but the Predators killed the five-on-three with help from five saves from Lankinen and two blocked shots by Kevin Gravel
Nashville briefly appeared to go ahead 3-0 with 2:59 left in the first, but the apparent goal by Tyson Barrie was quickly waved off because he kicked the puck across the goal line.
Pietrangelo cut the deficit to 2-1 at 6:00 of the second period. He took a wrist shot from the left circle that was saved by Lankinen, but the rebound went off Gravel and into his own net.
The Golden Knights killed a penalty in the middle of the second period and then Pietrangelo scored his second goal 15 seconds later to tie it 2-2 at 13:39. Jonathan Marchessault sent a pass back to Pietrangelo just as he crossed the Nashville blue line, and Pietrangelo skated in and scored with a wrist shot from the inside edge of the right circle
--Field Level Media