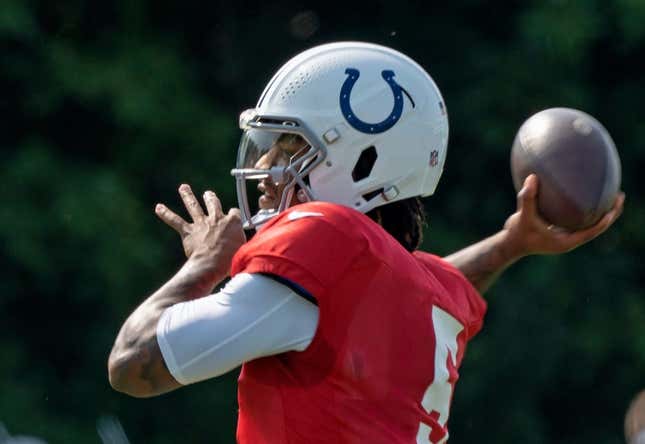 Colts rookie quarterback Anthony Richardson took every snap with the Indianapolis starters for the second consecutive day
How running an NFL team is like running a restaurant | Chef Emeril Lagasse
Richardson, who missed Monday's training camp session recovering from nasal surgery, was back with the first-team offense on Thursday to catch up on what he missed, head coach Anthony Steichen said
"He missed one (practice), so we just got him back-to-back days," Steichen said of Richardson taking the starter reps over Gardner Minshew again Thursday
Offensive coordinator Jim Bob Cooter wants to see as much of the 21-year-old Richardson as possible this time of year. As mistakes -- like a Thursday morning interception in seven-on-seven drills -- happen, what happens next has been the strongest positive effort in the assessment of coaches
"We see him make a mistake on one day and then the next day, that same opportunity presents itself and he's fixed it, he's got it figured out," Cooter said. "That's the game that we play and that's the game that quarterbacks play in this league quite a bit. How much can you learn? How much better can you get? The good thing about Anthony -- he's been really, really good about genuinely being open-minded about receiving coaching, receiving feedback and it's been impressive to watch him turn that into improvement the next day or maybe the next week on the practice field.
Steichen said commanding the huddle and being comfortable getting players lined up have been positives for Richardson, whom the Colts selected with the No. 4 overall pick in the 2023 draft
"You are around your teammates more and more, they get to know you," Steichen said. "I like his pocket presence right now. We've got to keep improving.
--Field Level Medi