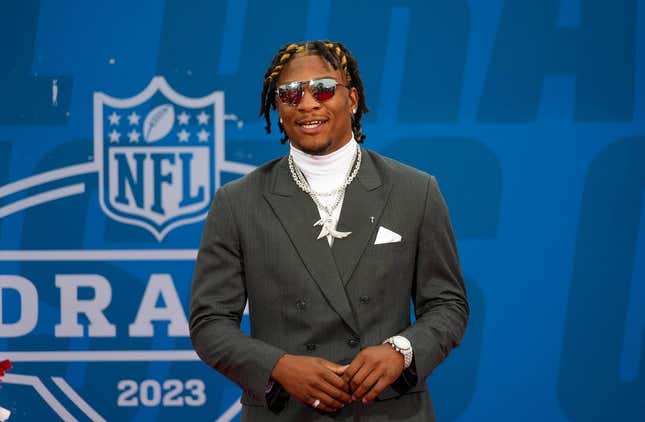 One of the best athletes in the NFL draft is headed to the Indianapolis Colts, where the challenge will be to build Florida's Anthony Richardson into one of the best quarterbacks in the league
Bass' ERA stinks, but not compared to who he is off the mound | Worst of the Week Countdown
The No. 4 pick on Thursday, Richardson was the third quarterback drafted in the first round following Alabama's Bryce Young to Carolina at No. 1 and Ohio State's C.J. Stroud to Houston at No. 2.
"The journey starts now," Richardson said.
In 2021, the first three picks were quarterbacks -- Trevor Lawrence (Jaguars), Zach Wilson (Jets) and Trey Lance (49ers) -- and that scenario also played out in 1999 and 1971.
Richardson was the biggest and fastest quarterback at the scouting combine, running a 4.43 40-yard dash at 6-foot-4, 244 pounds. He's not a polished product or passer with just 13 career starts for the Gators, but he's also the youngest of the prized prospects. His running skills could be more attractive to the Colts given their new offensive scheme
As of Monday, Colts owner Jim Irsay told ESPN the franchise was "still debating" the merits of the quarterbacks in the 2023 draft class. Irsay denies he's the overlord in the draft room or pushing buttons on personnel decisions
However, he did make clear when new head coach Shane Steichen was hired in February that quarterback was a need that helped guide the team to hire the former Eagles offensive coordinator, "knowing we're going to have to find a young quarterback to develop."
Steichen helped develop Jalen Hurts from second-round pick to NFL MVP runner-up last season.
Spinning the quarterback carousel has been a constant for the Colts, a pendulum that began with Andrew Luck's abrupt retirement in August 2019. Luck was the No. 1 pick in 2012, months after the Colts released Peyton Manning (first overall, 1998)
Luck leaving started the Colts' cycle of mediocrity and ushered a baton pass to new starters every season with Jacoby Brissett (2019), Philip Rivers (2020), Carson Wentz (2021) and Matt Ryan (2022)
This is just the second time the Colts have drafted in the first round since 2019 (defensive end Kwity Paye, Michigan, 2021). Ballard has drafted two quarterbacks since he arrived in Indianapolis in 2017: Sam Ehlinger (sixth round, 2021) and Jacob Eason (fourth round, 2020)
In the same stretch, Ballard drafted seven linebackers and seven wide receivers.
Pro Football Hall of Fame running back Edgerrin James was the No. 4 pick in 1999, the last time the Colts had the fourth selection
The franchise also had the No. 4 pick in the 1986 draft, selecting Alabama defensive end Jon Hand.
In addition to Luck and Manning, the Colts spent the No. 1 pick on a quarterback in 1990, selecting Jeff George of Illinois. In 1983, the Baltimore Colts drafted John Elway No. 1 overall and traded him to the Denver Broncos
--Field Level Media