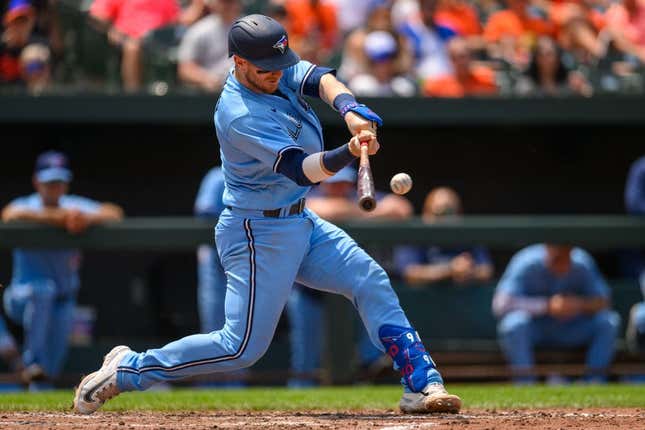 The Texas Rangers and Toronto Blue Jays are looking to get back on track after losing two straight series and when they open a three-game set on Friday in Arlington, Texas
Is Texas or Florida State a bigger national title contender? | Agree to Disagree
The Rangers will start left-hander Martin Perez (6-2, 4.67 ERA), while the Blue Jays will go with right-hander Kevin Gausman (5-3, 3.12)
Texas just dropped three of four games to the Los Angeles Angels, including the series finale on Thursday, when the Rangers had three ejections
The early exits, not the Rangers losing for the sixth time in eight games, were the central talking point afterward. Manager Bruce Bochy, pitching coach Mike Maddux and second baseman Marcus Semien were all tossed between the seventh and eighth innings by first base umpire Ramon De Jesus. The beef was over a called strike three on an attempted check swing by Semien
"Certainly a huge call that went against us," Bochy said. "That's a tough game, not coming away with the win. ... We were all invested in that game. Emotions were flying."
Intensity may be high again Friday with Perez on the mound. He has struggled of late, allowing 14 runs (13 earned) over his past three starts. His ERA has climbed from 3.83 to 4.67 in that stretch.
Perez had a forgettable outing in his latest start, against the Tampa Bay Rays on Sunday. In his shortest appearance of the season, he surrendered seven runs on 10 hits with three walks and two strikeouts over 3 1/3 innings.
However, he should be happy to return to Globe Life Field, where he is 3-0 with a 1.40 ERA in four starts covering 25 2/3 innings. In his career vs. the Blue Jays, Perez is 3-3 with a 3.10 ERA in 10 games, including nine starts
Perez earned a win in his latest start vs. the Blue Jays on Sept. 11, 2022, allowing one run on six hits with two walks and seven strikeouts over six innings. That game was in Arlington
For the Blue Jays, Gausman is looking to rebound from a frustrating start against the Minnesota Twins on Sunday. He allowed six runs on seven hits with four walks and four strikeouts over 4 2/3 innings
Gausman has handled himself well against the Rangers over his career, going 4-2 with a 3.66 ERA in nine games, including eight starts. In his only start at Globe Life Field last season, Gausman earned a victory on Sept. 10 despite allowing five runs on eight hits over 5 1/3 innings
The Blue Jays' offense managed only a pair of solo home runs by Danny Jansen on Thursday in a 4-2 loss at Baltimore. The Orioles won two of three in the series
Blue Jays manager John Schneider said the team is "not exactly where we want to be" as it travels to Texas for the second stop of a three-city, nine-game road trip
"We really haven't fired on all cylinders yet," Schneider said. "Not for a lack of effort, not for a lack of prep, so hopefully that all gets in sync pretty quick."
--Field Level Media