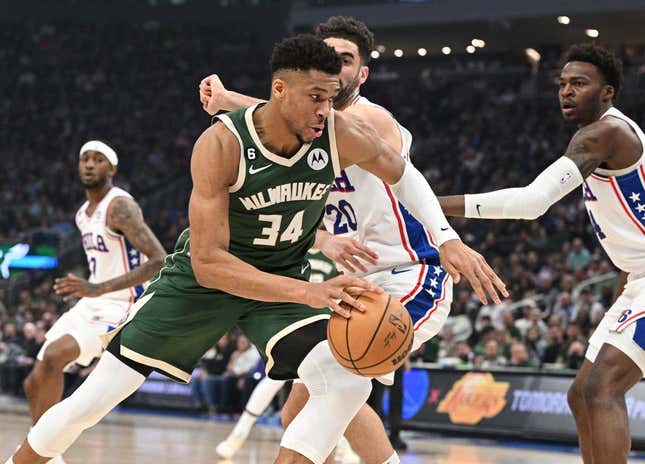 The Milwaukee Bucks went six weeks between losses, but their 16-game winning streak is over.
How running an NFL team is like running a restaurant | Chef Emeril Lagasse
Milwaukee will attempt to avoid its first back-to-back losses since the second week of January when it visits the Washington Wizards on Sunday night.
The NBA-best Bucks looked as if they were going to stretch their impressive streak to 17 when they led by as many as 18 points against the Philadelphia 76ers on Saturday.
But the Milwaukee defense evaporated in the fourth quarter as Philadelphia scored 48 points and rallied for a 133-130 victory. The 76ers were 7 of 11 from 3-point range in the final period and made 17 of 19 free throws.
Bucks coach Mike Budenholzer was surprised at the defensive collapse.
"The free-throw line really hurt us in the fourth quarter," he said afterward. "The 3-point line really hurt us in the fourth quarter. ... The free-throw line and the 3-point line, you gotta be able to defend those two things. And we didn't do that in the fourth quarter."
The Philadelphia bench also hurt the Bucks in the final stanza: The 76ers' reserves had a 20-0 edge.
"Their bench in the fourth quarter did a good job of just bringing energy, getting to the paint, knocking down threes and just doing everything that a bench is supposed to do," Milwaukee guard Jrue Holiday said. "From there, I think the momentum kind of shifted their way."
Giannis Antetokounmpo recorded 34 points and 13 rebounds for the Bucks. Holiday and Brook Lopez each scored 26 points and Grayson Allen added 20.
"You name it. They were able to get everything," Antetokounmpo said. "We've got to be able to play 48 minutes of good basketball, defend for 48 minutes. This is a good lesson for us."
Antetokounmpo scored a career-high 55 points when Milwaukee posted a 123-113 home win over the Wizards on Jan. 3. He sat out two days earlier when Washington rolled to a 118-95 triumph.
The Wizards have dropped 11 of the past 13 meetings against the Bucks.
Washington lost 116-109 in overtime to the Toronto Raptors on Saturday to split a two-game home set. The Wizards beat the Raptors 119-108 on Thursday.
Washington had a chance to win Saturday's contest in regulation, but Beal missed a 13-foot floater just before time expired.
Beal scored 21 points for his 26th game of 20 or more points this season but made just 7 of 22 shots from the field. He also recorded a season-best 10 assists.
Kristaps Porzingis recorded 22 points and 11 rebounds for his 18th double-double of the season. Porzingis has 36 games of 20 or more points.
The Wizards were hurt by 24 turnovers in the setback. Beal and Kyle Kuzma each committed five.
"Just gotta slow down, everybody, me too," Beal said of the miscues. "We've all gotta slow down and get to our spots and execute better."
Washington coach Wes Unseld Jr. sang a similar tune after being miffed by his club's sloppiness.
"Over-dribbling, playing in crowds, not spacing correctly," Unseld said. "All the things I think we were aware of and trying to avoid."
Delon Wright put together a strong all-around game with a season-high 18 points to go with seven assists, six rebounds and matching his career best of six steals.
Milwaukee signed veteran guard Goran Dragic on Saturday, and he is expected to be available to play on Sunday. Dragic has career averages of 13.3 points and 4.7 assists in 15 seasons with six teams.
--Field Level Media