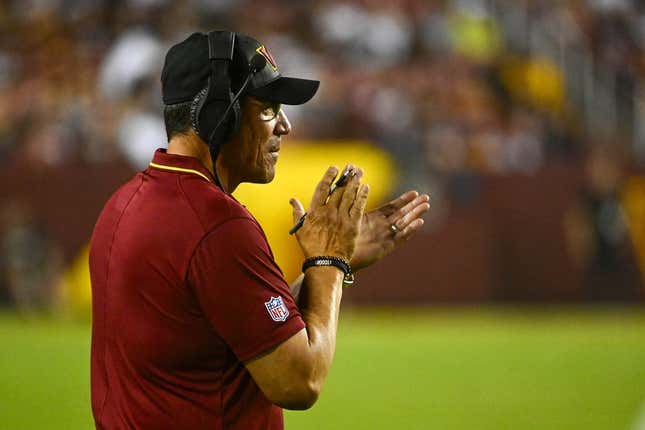 New Commanders owner Josh Harris needs only one number to decide whether head coach Ron Rivera sticks around: the win total.
How running an NFL team is like running a restaurant | Chef Emeril Lagasse
Rivera begins his fourth season in Washington with a 22-27-1 record and a goal of getting back to the playoffs.
He'll have to do it with another new starting quarterback — Sam Howell — which has been the nagging constant since he took over in Washington.
"I've really enjoyed getting to know coach Rivera," Harris said Wednesday. "He's a good man; he's done a great job in terms of where the team is relative to where it was when he got here and relative to a lot of the distractions going on.
"He has a very capable front office. We're getting up to speed; we want to hear how you want to learn, how you make decisions. It's going really well. ... Ultimately we have to deliver wins on the field. You don't need to say anything. It's just out there. So far, so good."
Rivera told The Washington Post he and Harris, who grew up in the region attending the team's games at RFK Stadium, are in full agreement on one thing: the goal is to put a team on the field worthy of the franchise's long-suffering fan base.
Beyond that, Rivera said he can't fret his own future while focused on putting a winner on the field.
"If we go 8-8-1 this year and he fires me, and next year they win the division and 40 of the 53 players we drafted, and it's the same quarterback, I'm vindicated. Send me my Super Bowl ring. That's the way I look at it," he told The Post. "I want us to be right and to see this community have that excitement again."
Howell started one game, the regular-season finale, last season. Rivera sounds optimistic Howell can be a long-term answer to a years-old pain point.
The QB position has been a sore spot with a revolving door of Week 1 starters that weren't the solution since Kirk Cousins fled to Minnesota in free agency: Carson Wentz (2022), Ryan Fitzpatrick (2021), Dwayne Haskins (2020), Case Keenum (2019), Alex Smith (2018) and Cousins (2017).
Mark Rypien was the last Washington quarterback to start for more than three consecutive seasons (1989-1993).
Every NFC East team reached the playoffs in 2022 with the exception of Washington. The Eagles played in the Super Bowl, the Dallas Cowboys won 12 games and the New York Giants got in to cap a resurgent season under Brian Daboll.
The Commanders fell short with three losses and a tie in their final five games.
—Field Level Media