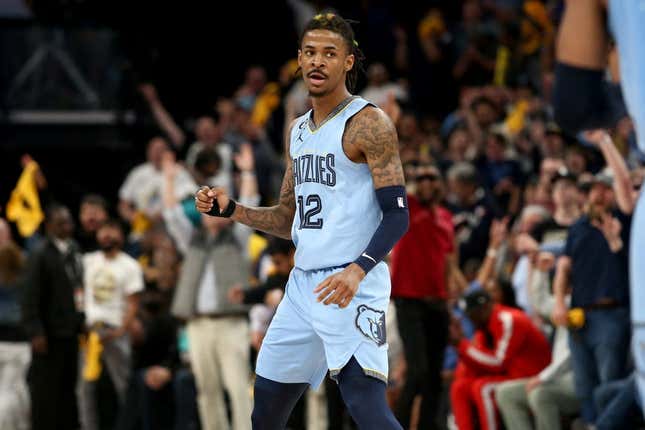 NBA commissioner Adam Silver announced Thursday that the league will wait until after the completion of the Finals to discipline Memphis Grizzlies star guard Ja Morant for brandishing a handgun in a social media video
How running an NFL team is like running a restaurant | Chef Emeril Lagasse
The video, which was on Instagram Live, featured Morant waving the gun while sitting in the passenger's seat of a car while listening to rap music. It went viral on the morning of May 14, and the Grizzlies suspended Morant from all team activities later that day
It was the second time in three months that Morant was caught with a firearm on social media. He was previously suspended eight games and sought counseling after a March 4 incident in which he filmed himself holding a gun at a Denver strip club following a 113-97 loss to the Nuggets.
Ahead of Game 1 of the Finals, Silver noted that "history of prior acts" and "the individual player's history" was taken into account when the league made its decision as to how it would punish Morant.
"We've uncovered a fair amount of additional information, I think, since I was first asked about the situation," Silver said. "I will say we probably could have brought it to a head now, but we made the decision, and I believe the players association agrees with us, that it would be unfair to these players and these teams in the middle of the series to announce the results of that investigation.
"Given that we're of course in the offseason, he has now been suspended by the Memphis Grizzlies indefinitely, so nothing would have changed anyway in the next few weeks. It seemed better to park that at the moment, at least any public announcement, and my sense now is that shortly after the conclusion of the Finals we will announce the outcome of that investigation.
Morant, after his initial eight-game suspension in March, met with Silver and league officials in New York to talk about the situation. Silver said the 23-year-old seemed "heartfelt and serious" when the two met, but he is unsure if the suspension made Morant change his ways in the wake of the most recent social media video.
"I don't think we yet know what it will take to change his behavior. Same thing I said at the time: He seems to be a fine young man," Silver said. "In terms of my dealings with him, I think he's clearly made some mistakes, but he's young.
"I'm hoping now -- once we conclude at the end of our process what the appropriate discipline is, that it's not just about the discipline, it's about now what we, the players association, his team and he and the people around him are going to do to create better circumstances going forward."
Morant is coming off his fourth season with Memphis after the Grizzlies selected him with the second overall pick in the 2019 draft. A two-time All-Star, Morant averaged 26.2 points, 5.9 rebounds and 8.1 assists in 61 games (59 starts) in 2022-23
The Nuggets beat the Miami Heat 104-93 on Thursday in the opener of the NBA Finals. The best-of-seven series will conclude no later than June 18, which is when Game 7 would be played if necessary.
--Field Level Media