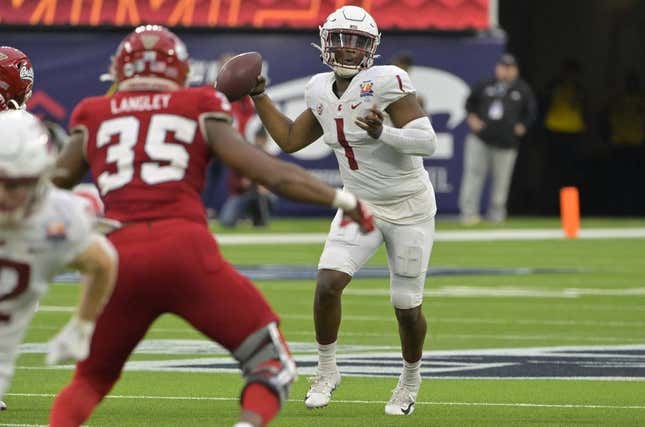 The seismic shift in college sports over the summer has left the Pac-12 gutted and the few remaining schools mulling new conference options.
How running an NFL team is like running a restaurant | Chef Emeril Lagasse
Washington State is one of those teams in limbo, and it could get a glimpse into its future when it opens the 2023 season at Colorado State on Saturday night in Fort Collins, Colo.
The Cougars have been linked to several conferences since other schools have left the Pac-12, and one of those is the Mountain West Conference. So Saturday's matchup could be a preview of a conference game starting next season.
Washington State finished 7-6 last season (4-5 Pac-12), capped by a loss in the LA Bowl to Fresno State.
The Cougars are the favorite going into Saturday's matchup and will try to answer some questions in the game.
One is the offensive line. Head coach Jake Dickert plans to use a rotation of players to help protect junior quarterback Cameron Ward.
"We haven't done that in my history here," Dickert told the Spokesman-Review. "But I think guys are going to be better playing 50 to 60 snaps a game, having a really desired role on the team and then attacking that role each week. So that's kind of the plan going into it and we'll be able to adjust on the fly."
The Rams were 3-9 last season, head coach Jay Norvell's first with Colorado State, and it included a 38-7 loss at Washington State. The poor record has a silver lining — it matches Norvell's record in 2017, his first at Nevada, and the team went 8-5 the following season.
Norvell sounded confident his Rams can make such a leap in 2023.
"We expect to win," he told the Denver Post. "Is that seven games, is that eight games, is that nine games? I don't know. I just know this: We're better at every position, we're a full inch taller at every position. I can't say that at any program that I've ever been in. Physically, our profile is more of what (my staff) looks for."
—Field Level Media