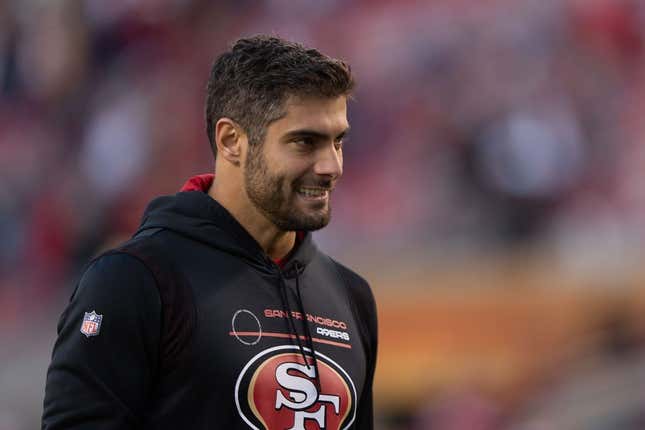 Houston Texans offensive coordinator Bobby Slowik showed his cards on Wednesday, confessing the QB-craving franchise has interest in soon-to-be free agent Jimmy Garoppolo.
How running an NFL team is like running a restaurant | Chef Emeril Lagasse
Garoppolo would need no introduction to Slowik, hired to run the offense for new head coach DeMeco Ryans, considering the complete triumvirate spent last season together with the San Francisco 49ers. Ryans and Slowik arrived in tandem as defensive quality control coaches in 2017.
Garoppolo, 31, was with the 49ers for six years but ended last season on injured reserve, and durability questions might cloud other options.
But Houston could offer more than a landing spot. The Texans, who have the No. 2 and No. 12 picks in the first round of the 2023 NFL Draft, could offer Garoppolo a chance to compete for a starting job with Davis Mills.
Slowik said Wednesday that the Texans are walking through their QB evaluations and Garoppolo is "obviously part of that process."
"He's going to be a free agent," Slowik said of Garoppolo. "We grind through that as a coaching staff. We grind through that in the personnel department. We have conversations. I have conversations with (GM) Nick (Caserio). He has conversations with DeMeco. And then Nick and DeMeco kind of put their heads together and lay out a plan and what we want to do going forward, and we'll see where that takes us."
Ryans and Caserio said last week at the NFL Scouting Combine that they are impressed with the draft class at quarterback.
Caserio was an undersized college quarterback at John Carroll, shorter than Bryce Young. Ryans, himself an Alabama product who was a second-round pick due to his 4.65 40-yard dash time, might take a surprising road to fixing the QB spot based on their background.
Young, the Heisman Trophy winner at Alabama and a national champion with the Crimson Tide, is expected to be the top pick in the draft, even at 5-feet-10, 206 pounds. If not Young, the Texans could have their pick of multiple quarterbacks from a list that includes Ohio State's C.J. Stroud, Kentucky's Will Levis and Florida's Anthony Richardson.
Slowik and Ryans also have the recent experience of watching seventh-round pick Brock Purdy lift the 49ers into the NFC Championship Game in a climb that began as an unheralded rookie.
"I would point to the end of last year. We had Mr. Irrelevant who did one heck of a job, played for us in San Francisco and took us all the way to the NFC Championship game," he said. "So, I think how you structure the entire thing -- offense, that includes defense, that includes special teams -- everything plays a hand into how it all goes together."
--Field Level Media