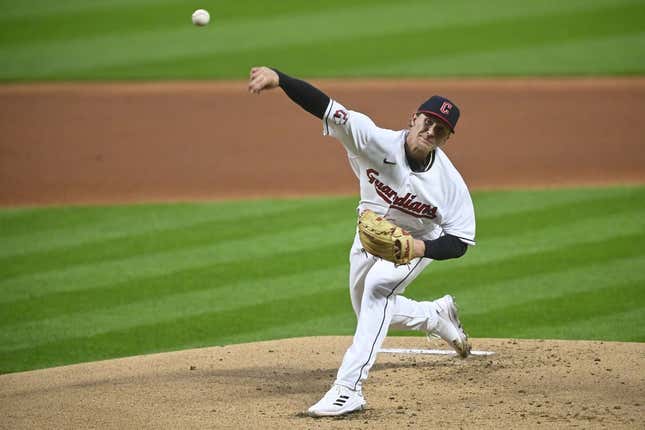 The Cleveland Guardians look to make it a winning weekend when they continue a three-game series against the host Boston Red Sox on Saturday afternoon
How running an NFL team is like running a restaurant | Chef Emeril Lagasse
A day after his team scored three runs over the first two innings of a 5-3 victory on Friday, Guardians right-hander Zach Plesac (1-1, 6.50 ERA) will take the mound in search of a bounce-back start
An early offensive surge on Friday was a welcome sight for the Guardians, who arrived in Boston after losing four of their previous six games and scoring 15 runs in that span
"A lot of us have played baseball for a long time," Cleveland outfielder Steven Kwan said. "It's one of those things where we'll break out at some point. We just have to keep doing what we're doing."
The series opener could have been a start.
Mike Zunino and Will Brennan both went deep, making it just the Guardians' third multi-homer game of the season
Above all, perhaps a change of scenery was what Cleveland needed. Having now posted their first back-to-back wins since April 14-15, the Guardians are 9-5 away from home. The team owns a 4-8 mark in Cleveland
"Other than hitting last, I don't know if home and away is that big of a difference," Cleveland manager Terry Francona said, "especially early in the season when there's not a lot of crowds and it's not all that noisy."
Plesac has won just one of his first four starts this season after allowing three runs on 10 hits in five-plus innings on April 22 against the Miami Marlins. His lone victory came on April 15 at Washington.
The 28-year-old Indiana native is 1-1 with a 4.43 ERA in four career starts against the Red Sox, a team that Cleveland beat just twice in seven meetings last season
Boston's rotation took a hit prior to the series as scheduled Saturday starter Garrett Whitlock was placed on the 15-day injured list due to right elbow ulnar neuritis. Manager Alex Cora expressed hope that Whitlock would miss only two starts.
"Probably later in the season, he could push through it, but right now it doesn't make any sense," Cora said of Whitlock, "so we'll take care of him."
Brayan Bello (0-1, 9.82) was recalled from Triple-A Worcester to pitch in Whitlock's place as the Red Sox look to shake off consecutive losses and defeats in three of four games. It will be the 23-year-old's third start of the season and the first of his career against Cleveland
Bello was charged with three runs on five hits and struck out three over 4 2/3 innings on Sunday in Milwaukee. He allowed only the third home run of his major league career, which spans 64 2/3 frames.
Friday snapped a streak of eight consecutive games with a home run for Boston, though outfielder Jarren Duran became the fifth major league player this season to record three doubles in the game.
Duran, who entered the season as a career .219 hitter, has hit safely in nine of his first 11 games.
Boston was 2-for-13 with runners in scoring position and got just three hits from those not named Duran (3-for-4) and Enrique Hernandez (2-for-4).
"We had traffic and put pressure on them," Cora said after the series opener. "That's what we do, but obviously, not every day we're going to cash in."
--Field Level Media