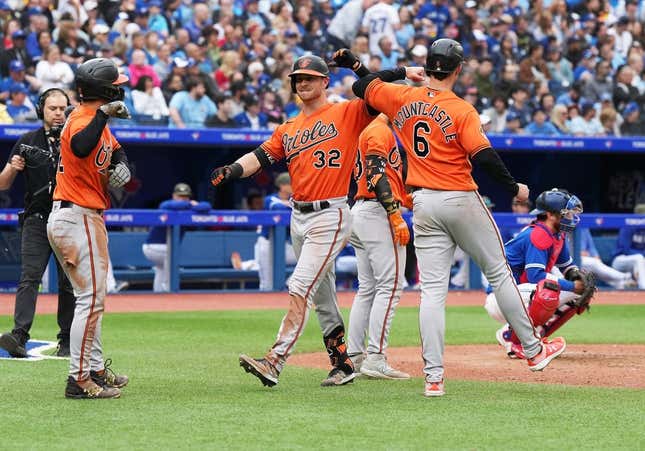 After clinching their three-game series against the host Toronto Blue Jays on a dramatic comeback win, the Baltimore Orioles will go for the sweep Sunday afternoon
How running an NFL team is like running a restaurant | Chef Emeril Lagasse
Ryan O'Hearn, who had four RBIs Saturday, hit the tying three-run home run in the eighth inning against Toronto closer Jordan Romano.
The Orioles took a 6-5 lead when Toronto third baseman Matt Chapman's throw home in the 10th inning hit Ryan Mountcastle on the back. Felix Bautista, who also pitched the ninth, clinched the victory by striking out the side in the bottom of the 10th
The Orioles won the series opener 6-2 on Friday in a matchup of the American League East rivals
"Coming in here and getting a series win against a team we're competing for the division with is huge," O'Hearn said. "It does nothing but build confidence for the guys. It's pretty fun to be a part of right now."
The Blue Jays will go for a split of their 10-game homestand that started so well. They swept the Atlanta Braves in three games to start the homestand before dropping three of four to the New York Yankees
Right-hander Dean Kremer (5-1, 4.94 ERA) is scheduled to start for Baltimore on Sunday. He is 1-3 with a 5.77 ERA in seven career outings (six starts) against the Blue Jays
Right-hander Kevin Gausman (2-3, 3.27) is slated to start for Toronto. He is 1-1 with a 7.00 ERA in two career starts against his former team.
The victory on Saturday could be the highlight of a strong Orioles start to the season. They are 30-16 overall and have won seven of their past 10 games
"This is at the top for me," Orioles manager Brandon Hyde said. "We just did so many good things -- little things. (Mountcastle) there, getting on the inside, huge play, great base running. (Adam) Frazier all day long what he was doing offensively. Ryan O'Hearn, three-run homer, big spot off the closer. And how about my man Bautista? He was unbelievable.
O'Hearn also had an RBI single among his three hits Saturday. It was just the seventh time this season that he has been in the starting lineup.
"I've got some experience doing that, not playing very much," O'Hearn said. "When it's my time to play, I've got to make it happen. Any day I see I'm in the lineup, I'm excited. Grateful to get in there and play a major league game, and kind of just bringing that energy to the game, letting it fly. I have nothing to lose."
The Blue Jays were encouraged by the start of right-hander Alek Manoah, who has struggled in the early season
He allowed two runs in 5 2/3 innings. He might have stayed longer, but when manager John Schneider visited the mound in the sixth inning, Manoah had to leave the game because it was the second visit of the inning. Pitching coach Pete Walker already had visited Manoah.
"I forgot Pete went out there," Schneider said. "We were talking about a lot of different stuff."
Manoah allowed six hits and one walk and hit a batter.
"I thought he threw it really well. It's a good step in the right direction," Schneider said. "I thought his command was good, his slider was back a little bit, and I thought overall his stuff was good."
--Field Level Media