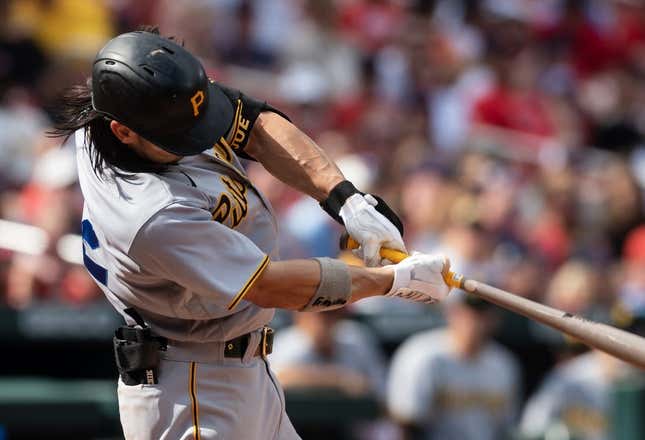 Connor Joe dealt with adversity early in his major league career. When he was with the Los Angeles Dodgers in 2020, he was diagnosed with testicular cancer, but after surgery and chemotherapy, he was soon cancer-free.
Bass' ERA stinks, but not compared to who he is off the mound | Worst of the Week Countdown
It could have slowed his rise back to the majors, but it only delayed it a year. He latched on with Colorado in 2021 and played 174 games over two seasons with the Rockies before signing with the Pittsburgh Pirates last December
He returned to Denver on Monday night as the Pirates earned a 14-3 win over Colorado in the opener of a three-game series. The second game is Tuesday night, with Pittsburgh's Vince Velasquez (1-2, 5.40 ERA) opposing Jose Urena (0-2, 9.90) in a matchup of right-handers
Joe is hitting .297 with a home run while settling into the Pirates' lineup. He was given a warm reception by the crowd when he came to the plate in the second inning on Monday. Joe walked and scored in that inning, but he finished 0-for-4
"Anytime a guy comes back to where he played, it's really cool," Pittsburgh manager Derek Shelton said. "I think those are special times."
The Pirates will try to provide Velasquez with something resembling the 16-hit attack they mustered on Monday. Velasquez earned his first win with Pittsburgh in his latest start when he scattered three hits over six innings in a 5-0 road win over the St. Louis Cardinals on Thursday
He is 2-1 with a 4.75 ERA in nine appearances, including eight starts, during his career against the Rockies
Colorado hopes to activate closer Daniel Bard before the Tuesday game. Bard started the season on the 15-day injured list due to anxiety but had a good outing at Triple-A Albuquerque (one scoreless inning, three strikeouts), and he is with the Rockies in Denver
The Rockies are rooting for Urena to pitch at least as well as he did against St. Louis on Wednesday. After giving up 10 runs (eight earned) in his first two starts, he was more effective vs. the Cardinals, going five innings and allowing three runs in a no-decision
He is familiar with the Pirates, having faced them 12 times -- five of those starts -- while going 2-3 with a save and a 5.26 ERA
Pitching hasn't been the main concern for Colorado during its six-game losing streak. Runs and hitting with players in scoring position have been the primary culprits. On Monday, Kris Bryant broke out with three hits, including his first home run at Coors Field during his two seasons with the Rockies
"It's cool to kind of get that out of the way, and not just get out of the way but feel really good about all my bats in the game," said Bryant, who signed as a free agent before the 2022 season. "I feel like I could definitely do more, but definitely got to look at more of the positives. Some of the numbers look good, but some I would love to do better just in terms of helping this team win."
--Field Level Media