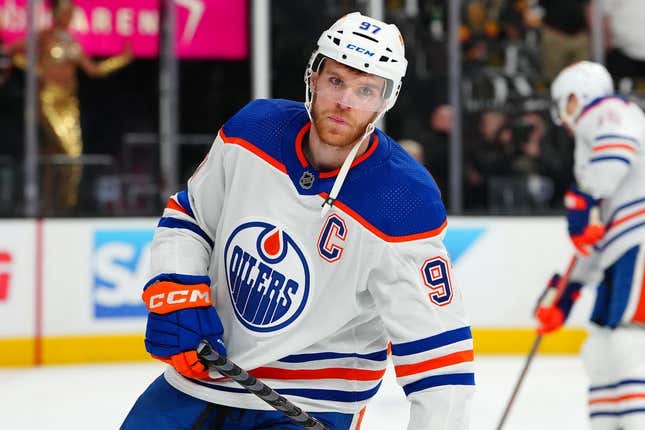 Edmonton Oilers star Connor McDavid, Boston Bruins forward David Pastrnak and Florida Panthers forward Matthew Tkachuk were named the three finalists for the 2022-23 Hart Memorial Trophy, the league's Most Valuable Player award, on Friday.
Are the Oakland A's a failed state? | Agree to Disagree
McDavid, Pastrnak and Tkachuk were the top three vote-getters from Professional Hockey Writers Association voting, but McDavid is widely expected to win the award after leading the NHL in goals, assists and points. All league-wide awards will be revealed during the NHL Awards show on June 26 in Nashville, Tenn.
McDavid, 26, is vying to win the Hart for the third time after taking home the award in 2016-17 and 2020-21. His 64 goals, 89 assists and 153 points all marked career highs; the next closest player in total points was Oilers teammate Leon Draisaitl, who was 25 behind. The 153 points marked the highest total the NHL has seen since Mario Lemieux posted 161 points in just 70 games in 1995-96.
McDavid is just the fifth NHL player to lead all three categories outright in the same season and the first since Wayne Gretzky did so in 1986-87.
Pastrnak, who turns 27 later this month, ranked second in the league with 61 goals and third with 113 points. His offense helped the Bruins set NHL single-season records for wins (65) and points (135). Pastrnak also led the NHL in shots on goal (407) and game-winning goals (13).
In his first season with the Panthers, Tkachuk, 25, put up 109 points (40 goals, 69 assists) in 79 games. He became the fourth player in NHL history and the first since 1988-89 to post consecutive 100-point seasons after changing teams in the intermittent offseason -- he was traded to Florida by the Calgary Flames -- and he was named MVP of the NHL All-Star Game.
Pastrnak and Tkachuk are finalists for an NHL award for the first time in their careers.
--Field Level Media