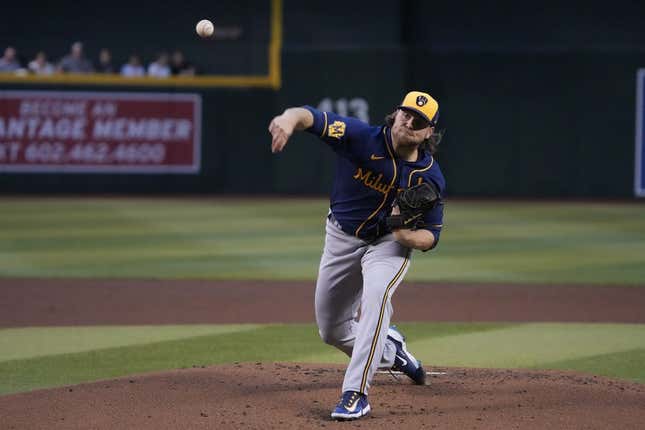 After stumbling in his first two starts of the season, Milwaukee's Corbin Burnes looked more like the 2021 National League Cy Young Award winner his last time out.
Chris Paul should ride the bench next season | Keep it a Buck(et)
Burnes allowed just three hits in eight scoreless innings of a 7-1 victory last Tuesday at Arizona, with no walks and eight strikeouts.
He'll look to continue that trend when he takes the mound for the Brewers on Monday night against the host Seattle Mariners in the opener of a three-game interleague series
"That's as good a start as Corbin has had in the big leagues," Brewers manager Craig Counsell said of Tuesday's outing. "I thought he was just awesome, just from really the first sequence of the game, the first inning of the game, he was locked in. He carried it through eight strong innings. ... What else do you expect from Corbin?
Burnes (1-1, 5.19 ERA) said he tried not to worry after allowing 10 runs on 11 hits over 9 1/3 combined innings in his first two starts.
"It's about not hitting the panic button," Burnes said. "It's very easy to start to panic, start looking at things and dig into something that's not there. So for me, I took a brief look at the mechanics, took a brief look at the movement and everything was there.
"So it's just getting up there, competing and being aggressive."
Monday will be the first time Burnes has faced Seattle in his career.
Mariners right-hander Chris Flexen (0-2, 8.74) is scheduled to make his third straight start for the injured Robbie Ray
After pitching five solid innings in his first start against the Los Angeles Angels, Flexen was hammered last Tuesday against the host Chicago Cubs.
Despite being staked to a 7-0 lead, Flexen couldn't make it out of the third. He gave up eight runs on 10 hits in 2 1/3 innings in a 14-9 defeat.
"It's very disappointing," said Flexen, who is 0-1 with a 13.50 ERA in two career relief appearances against Milwaukee. "The guys jump on a lead like that, and to not be able to hold it in that short amount of time is pretty embarrassing. I'm very frustrated, very disappointed."
Both Milwaukee and Seattle are coming off 1-0 victories Sunday. The Brewers won in San Diego and the Mariners defeated visiting Colorado
For Seattle, it was its fourth consecutive victory to get back to .500 (8-8).
Seattle's Jarred Kelenic extended his hitting streak to 10 games by driving in the lone run with a single in the sixth inning and made a diving catch in right field to end the eighth and help preserve the shutout. Luis Castillo retired the first 18 batters he faced and wound up allowing two hits in seven innings.
"Pitching and good defense," Mariners manager Scott Servais said. "There's no substitute for it.
Milwaukee's Garrett Mitchell reached on a bunt with one out in the second inning, took second on a disengagement violation, stole third and scored on Brian Anderson's sacrifice fly.
"That is a run scored with your legs," Counsell said.
Wade Miley allowed four hits over seven innings and Devin Williams got out of a bases-loaded jam in the ninth to earn his second save.
--Field Level Media