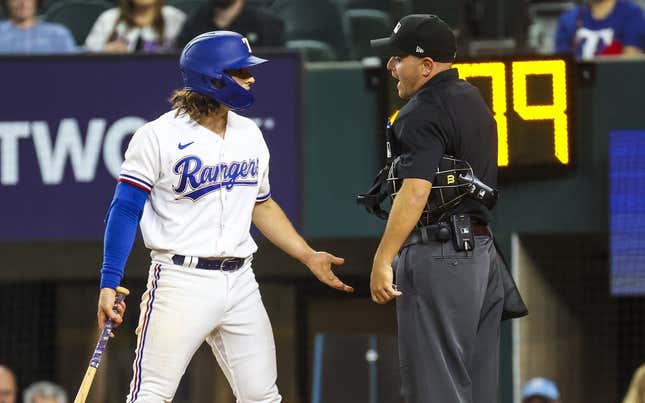 The Texas Rangers on Wednesday began what will be at least a four-week stretch without shortstop Corey Seager, who was placed on the 10-day injured list with a Grade 2 left hamstring strain
Bass' ERA stinks, but not compared to who he is off the mound | Worst of the Week Countdown
Seager suffered the injury Tuesday against the Kansas City Royals on a fifth-inning double. He was off to an exceptional start for the Rangers, leading the club with a 1.008 OPS courtesy of a .359/.469/.538 slash line. Seager is in the second year of a 10-year, $325 million contract
Without Seager available, the Rangers will open a three-game road series against the Houston Astros on Friday
Texas will utilize utility man Josh Smith, who started for Seager in the Rangers' 10-1 loss to the Royals on Wednesday, and Ezequiel Duran as stopgaps until Seager returns to the fold
"Gosh, he's been swinging the bat so well. You hate to see it because he's been on fire," Rangers manager Bruce Bochy said of Seager. "He's squaring up everything. You've got your hottest hitter. Let's be honest here, that's how good he's been swinging the bat
"But meanwhile we have a really good shortstop in Smitty, and Duran, he played a lot of short this spring, so we do have some coverage until we get him back."
Left-hander Martin Perez (1-1, 2.53 ERA) will start the series opener for the Rangers on Friday. He was the pitcher of record in Texas' 10-3 road loss to the Chicago Cubs last Saturday, allowing three runs (two earned) on five hits with five strikeouts in five innings. He did not walk a batter
Perez is 9-8 with a 3.23 ERA over 19 career starts against the Astros. Last season, Perez finished 1-3 with a 3.82 ERA in five starts against Houston. That included a 3-0 victory on May 20, during which he scattered eight hits and one walk while twirling a road shutout, and a 1-0 loss on Sept. 5, when he allowed one run on six hits and one walk with five strikeouts in seven innings
Right-hander Luis Garcia (0-1, 7.00) has the starting assignment for the Astros. He did not factor into the decision of the Astros' 9-6 loss to the Minnesota Twins on Saturday after allowing four runs on six hits and three walks with four strikeouts over four innings. Garcia has posted eight strikeouts against five walks in nine innings over his first two starts of this season
Garcia is 3-0 with a 2.50 ERA in five career appearances (three starts) against Texas. He faced the Rangers once last season and allowed two runs on five hits while notching a season-high nine strikeouts without a walk over six innings in a 9-2 road victory on June 15
With their 7-0 win over the Pittsburgh Pirates in the rubber match of a three-game series on Wednesday, the Astros claimed their first series victory after an 0-2-1 start. Texas will represent the start of a six-game homestand that Houston hopes will yield positive momentum
"Hopefully you can go home, have a good homestand, get over .500 and never look back," Astros manager Dusty Baker said. "That's our goal. We know we have a tough, new and different Texas team coming in. It's going to be a good weekend.
--Field Level Media