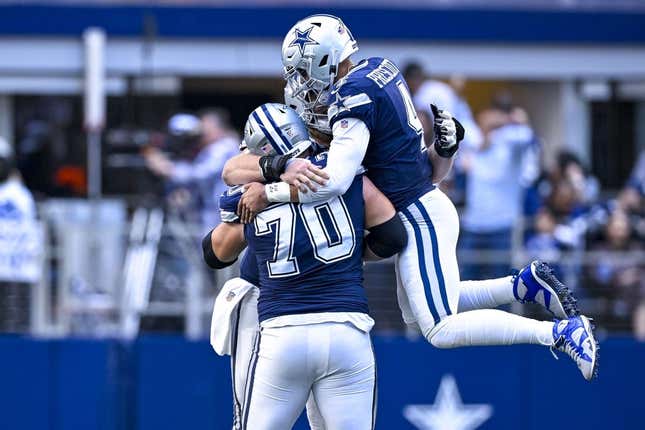 Zack Martin was absent for the first day of Dallas Cowboys training camp in Oxnard, Calif., on Tuesday and is expected to dig in while waiting for his contract to be addressed
Is Texas or Florida State a bigger national title contender? | Agree to Disagree
Owner Jerry Jones said Tuesday that he was "not going to discuss anything" about contract matters while speaking at his annual camp kickoff press conference. The first practice of camp is Wednesday, and players are not required to travel on the team charter to California.
Jones said, "I think we've got a chance to be a contender," when asked about the Cowboys' expectations
But Martin is an essential piece of the puzzle on offense, a six-time All-Pro and eight-time Pro Bowl selection in nine years with the team.
If Martin holds out, the Cowboys could be looking at unproven options at right guard: rookie fifth-round pick Asim Richards or 2021 seventh-rounder Matt Farniok
Martin, 32, signed a six-year, $84 million extension in 2018, making him the league's top-paid guard at the time.
Entering camp this week, his standing is significantly lower.
Atlanta Falcons guard Chris Lindstrom ($20.5 million) and Indianapolis Colts guard Quenton Nelson ($20 million) are the top-paid players at the position based on average annual salary. Martin's $14 million per-year average is ninth among guards.
Martin was the No. 16 pick in the 2014 NFL Draft.
Martin can be fined under NFL rules and would potentially forfeit more than $900,000 if he skips camp entirely. Often as contract disagreements are settled, such attendance-related fines are waived or negotiated out of the final salary figure.
--Field Level Media