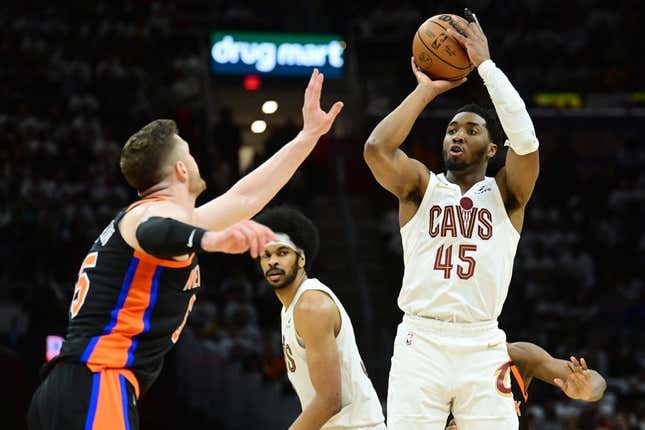 The New York Knicks hotly pursued Donovan Mitchell in the offseason, envisioning the star guard as the player who could prompt a franchise revival
Bass' ERA stinks, but not compared to who he is off the mound | Worst of the Week Countdown
Instead, the Utah Jazz traded Mitchell to the Cleveland Cavaliers, and come Friday night, Mitchell will be cast in the role of villain when Cleveland and host New York battle in Game 3 of their Eastern Conference first-round series
The teams split the first two games of the series as Mitchell averaged 27.5 points and 10.5 assists. He scored 38 points in Cleveland's 101-97 loss in Game 1 and recorded 17 points and 13 assists as the Cavaliers prevailed 107-90 in Game 2
The series moves to New York for Games 3 and 4 and Mitchell, a native New Yorker, is well aware it will be an unwelcoming atmosphere inside famous Madison Square Garden.
"We have to continue to replicate these games," Mitchell said. "Especially when we go over to New York because it's going to be crazy, it's going to be loud, it's going to be nobody cheering for us. We understand it's going to be war."
Mitchell averaged 31.8 points in four games against the Knicks this season but struggled with his shooting in two visits to meet the Knicks at New York. He averaged 23.5 points while shooting just 37 percent (17 of 46) from the field in those games, both losses
The fifth-seeded Knicks went 3-1 in the regular season against the fourth-seeded Cavaliers and then stole homecourt advantage with the Game 1 win. New York will try to further re-establish itself Friday
So Mitchell knows the pressure is on his team in Game 3.
"Just do what we do," Mitchell said. "Don't make it too much. Don't make the moment too big. ... Just make the moment about what we do. Understanding that it's going to be loud, it's going to be crazy, it's going to be fun."
Darius Garland also starred in Cleveland's Game 2 win by scoring 26 of his 32 points in the first half.
"Everybody in the building told me to go be aggressive," Garland said. "'Go shoot the ball.'"
New York will be looking to bounce back from a dreadful Game 2 performance, trailing by 20 points at halftime and ultimately by 29 points.
Forward Julius Randle felt the hype got out of hand after New York posted the impressive road victory in Game 1.
"We weren't expecting the series to be over in four or whatever it is," Randle said. "We're taking it a game at a time. So we just got to adjust and we'll be fine.
"Obviously, we could've played better after the first game. We definitely feel like we can play better now. But as a group we're positive. We feel confident."
Randle wasn't feeling so upbeat about being the recipient of a hard foul from Cleveland's Jarrett Allen late in the fourth quarter of Game 2. Randle was speeding in for a fast-break dunk and Allen's foul caused Randle to fall awkwardly out of bounds. He made the ensuing free throw to cut the New York deficit to 103-83 with 2:22 remaining.
"I thought it was a little unnecessary," Randle said. "But it's fine, it's irrelevant. We get to go back to the Garden and we'll see them there."
Randle's late presence in the game came into question after he recently returned from an ankle injury.
"I was actually going to sub Julius out, and he wanted to stay in for a couple more possessions just to find rhythm," Knicks coach Tom Thibodeau said
New York is hoping outside shooters RJ Barrett (6 of 25 in the series) and Immanuel Quickley (4 of 13) will find some rhythm in Game 3.
"Honestly, every game is new," Quickley said. "Simply because every game is a new game, you start zero-for-zero. It's 1-1 in the series, and you just move on to the next game."
--Field Level Media