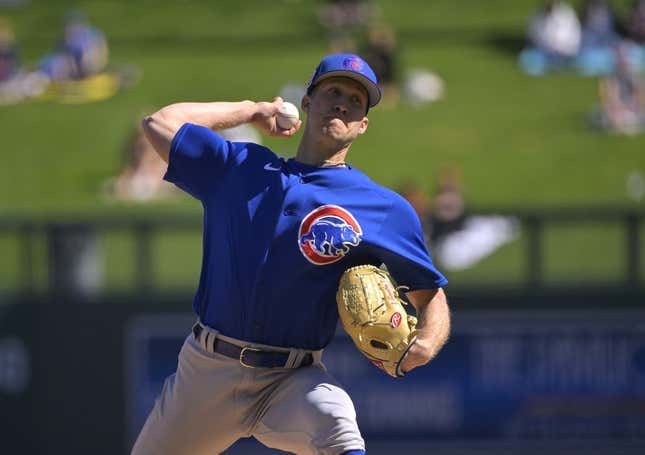 The Miami Marlins, who are 8-0 this season in one-run games, will try for some more magic on Saturday when they play host to the Chicago Cubs
In the series opener, Miami beat Chicago 3-2 on Friday night, improving to 14-0 when holding opponents to four runs or less. The Marlins are 0-13 when they yield five runs or more
The Marlins have won two in a row after a four-game losing streak, while the Cubs have alternated losses and wins for five consecutive games. Still, both teams are off to solid starts
In fact, Marlins manager Skip Schumaker praised the Cubs prior to Friday's game
"It's not surprising to me that they are having a good year because of what they did in the offseason," Schumaker said. "They're also coached really well."
Indeed, the argument can be made that the rebuilding of the Cubs is ahead of schedule
Chicago traded away or let walk all of the major stars from the team that ended the franchise's century-plus World Series drought in 2016.
A rebuilding effort ensued following the 2020 season, resulting in two straight losing years.
Now, though, the Cubs have a farm system loaded with top prospects and a major league roster that, for example, starts former first-rounders throughout its infield. That group includes first baseman Eric Hosmer (selected by the Royals), second baseman Nico Hoerner (Cubs), shortstop Dansby Swanson (Diamondbacks), third baseman Patrick Wisdom (Cardinals) and fellow third baseman Nick Madrigal (White Sox)
The Cubs have some excellent defenders in catcher Tucker Barnhart (two Gold Gloves), Hosmer (four Gold Gloves), Swanson (Gold Glove in 2022), left fielder Ian Happ (Gold Glove in 2022) and center fielder Cody Bellinger (Gold Glove in 2019). In addition, strong-armed right fielder Seiya Suzuki won five Golden Gloves in Japan
"We're trying to create well-rounded, smart baseball players," Cubs manager David Ross said on Friday. "It's not how hard you throw, how fast you run or how far you hit
"It's about winning at-bats, winning defensive plays and having a winning presence on the mound."
The Cubs are expected to promote Caleb Kilian from Triple-A Iowa for the start on Saturday. The 25-year-old right-hander will be making his 2023 major league debut
Kilian broke into the majors last year, going 0-2 with a 10.32 ERA. The Cubs lost all three of his starts (vs. the St. Louis Cardinals, San Diego Padres and Pittsburgh Pirates), and Kilian never made it past the fifth inning. He walked 12 batters in 11 1/3 innings
The Marlins will counter with their own 25-year-old right-hander, Edward Cabrera (1-2, 4.91 ERA)
Cabrera is 1-0 with a 2.70 ERA in two career starts against the Cubs
The Marlins are 2-3 this season when starting Cabrera, who showed his potential on April 18 when he went six innings and held the San Francisco Giants to six hits, two walks and two runs. In his other 16 innings this year, however, he has allowed 18 walks and 10 runs
The Marlins' offense is powered by second baseman Luis Arraez, who leads the majors in batting average (.427)
The rest of the hitters are making periodic contributions, such as third baseman Jean Segura, who delivered a walk-off single on Friday.
"He's had a slow start," Schumaker said of Segura, who is batting .217. "He tries to get everybody going no matter how frustrated he is (with his slump).
"If anyone deserves one of those four-hoppers through the infield, it's Jean."
--Field Level Media