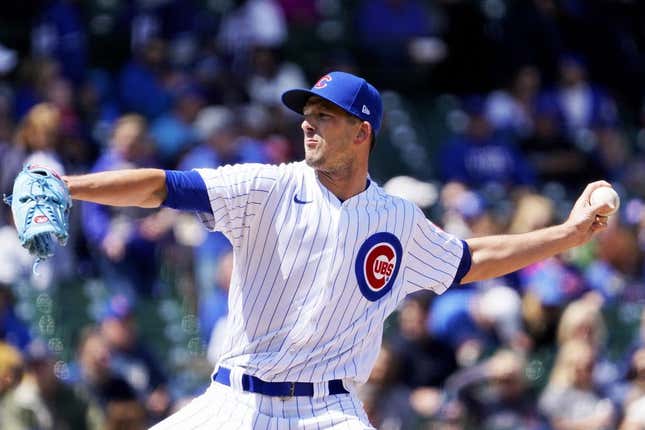 After flirting with perfection in his most recent start, Chicago Cubs left-hander Drew Smyly will look to continue his success at home
Air Jordans are more American than McDonald's French fries | Deon Cole's Ultimate Sports Fantasy
After briefly snapping out of their hitting funk, the San Diego Padres hope to get their bats going following a shutout loss in Chicago
Smyly and the Padres will face off on Wednesday, with the host Cubs looking to take the first two of a three-game set
Smyly (2-1, 3.13 ERA) took a perfect game into the eighth inning Friday against the Los Angeles Dodgers. The bid for history ended when Smyly and catcher Yan Gomes collided trying to field David Peralta's slow roller that barely made it halfway to third base.
It was the only hit and runner Smyly allowed over 7 2/3 innings, as he struck out 10 in the Cubs' 13-0 win at Wrigley Field
After yielding seven runs (six earned) and nine hits in 4 2/3 innings at Cincinnati in his 2023 debut, Smyly has given up two runs and seven hits over 18 1/3 innings over his past three starts. Armed with a balanced approach of fastballs and curveballs, plus other off-speed options, Smyly has found an early rhythm in his second season with Chicago.
"Teams are always going to hunt out super talented individuals -- the 'stuff' guys," said Smyly, who turns 34 in June. "But there's going to be outliers."
In his past seven home starts, Smyly is 3-1 with an 0.89 ERA -- perhaps a big reason he enjoys being a Cub.
"Pitching here at Wrigley Field is so special," said Smyly, who has played for six other teams since breaking into the majors in 2012. "It's awesome. Every single game."
This will be the first time Smyly has faced the Padres at Wrigley. He is 1-1 with a 2.04 ERA in four games (two starts) vs. San Diego
The Padres managed just five hits during a 6-0, series-opening loss on Tuesday -- after totaling 19 runs while taking three of four at Arizona over the weekend
San Diego ranks last in the majors in batting average (.214) and in the bottom third in runs per game (3.68) and on-base percentage (.301). The Padres have been shut out five times in 2023
"It's been a little bit of struggle here at the early part of the season," said San Diego manager Bob Melvin, whose team struck out 10 times, stranded 10 men on base and went 0-for-8 with runners in scoring position on Tuesday.
Despite the team's offensive issues, San Diego's Xander Bogaerts is batting .330 and has reached base in all 25 games this season. However, he is just 4-for-21 (.190) with a homer and seven strikeouts in his career vs. Smyly.
Teammate Manny Machado is 6-for-18 against Smyly but just 8-for-55 (.145) in his past 14 games.
Scheduled San Diego starter Michael Wacha (2-1, 7.08 ERA) allowed four runs and eight hits over 12 innings while winning his first two starts this season. However, he has yielded 12 runs and 21 hits in 8 1/3 innings over his past two outings.
The right-hander is 4-8 with a hefty 6.50 ERA in 20 career outings (18 starts) against the Cubs, but he last faced them in 2019 when he was with the St. Louis Cardinals. Chicago's Ian Happ is 4-for-11 with three home runs vs. Wacha but 2-for-13 in his past four games overall
After hitting a bases-loaded triple on Tuesday, Chicago's Nico Hoerner is batting .347 with 14 RBIs and has reached based in 20 consecutive contests.
--Field Level Media