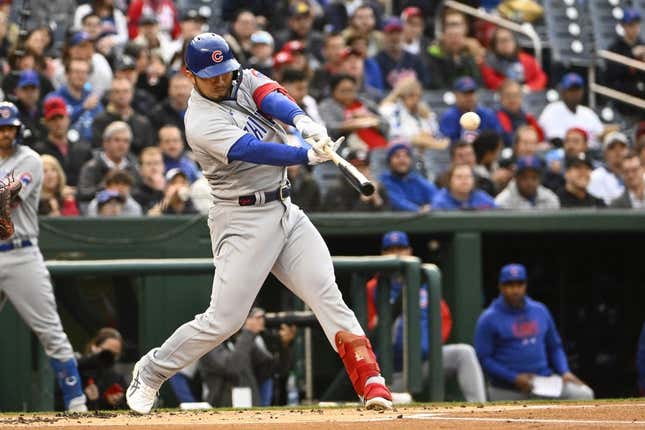 Drew Smyly yielded just one run across seven innings and the visiting Chicago Cubs won the opener of a four-game series against the Washington Nationals with a 5-1 victory Monday night
Air Jordans are more American than McDonald's French fries | Deon Cole's Ultimate Sports Fantasy
Mark Leiter Jr. and Brad Boxberger each pitched a hitless inning in relief for the Cubs to make it a combined six-hitter. Dansby Swanson smacked a two-run home run and Ian Happ slugged a solo shot
Lane Thomas homered with two outs in the second inning for Washington's run. Dominic Smith went 3-for-3 with a double and Luis Garcia had two hits for the Nationals, who lost for the fourth time in their last five games. The Nationals left only four runners on base
Smyly (3-1) didn't issue a walk and struck out two during his 84-pitch outing. Even though he finished with a season-low strikeout count, the left-hander reached the five-inning mark for the fifth consecutive start. He has allowed two runs or fewer in 13 of his last 15 starts.
Chicago has allowed two runs or fewer in 12 of its 15 victories this season.
The Cubs, who snapped a three-game skid and avoided their first four-game winless stretch of the season, struck right away against Nationals starter Mackenzie Gore (3-2), putting up two runs in the first inning. Seiya Suzuki's single and Trey Mancini's double drove in the runs
Swanson's second home run of the season came before Gore retired any batters in the fifth inning, making it 4-1. Gore lasted four-plus innings and was charged with four runs and seven hits with four strikeouts and two walks.
Happ's second hit of the game was his third home run of the season. He launched that to lead off the ninth against Cory Abbott, the fourth Washington pitcher of the game.
Swanson ended up 3-for-5 to join Happ as the only Chicago players with more than one hit.
--Field Level Media