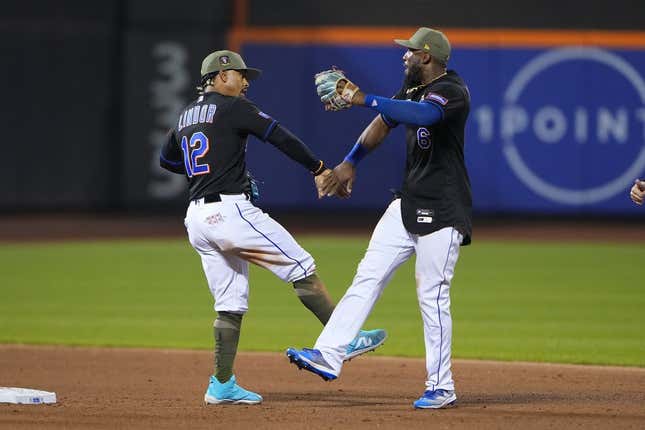 If the New York Mets are to continue their surge, they likely need Kodai Senga to improve his work on the road
How running an NFL team is like running a restaurant | Chef Emeril Lagasse
Meanwhile, a return home might not be enough to help the reeling Chicago Cubs rebound from a rough road stretch
Senga looks to avoid a fourth straight rough road start while the Mets aim for a season-high sixth consecutive win Tuesday night against the Cubs
In his first major league season, the Japanese right-hander is 2-1 with a 1.57 ERA in four home starts. However, after allowing a run in 5 1/3 innings at Miami in his first road outing, Senga (4-2, 3.77 ERA) is 1-1 with a 7.98 ERA, with opponents batting .323 in the next three away from home.
That said, Senga should feel confident after he yielded a run, three hits, three walks and set a Mets' record for Japanese pitchers with 12 strikeouts over six innings against Tampa Bay at home on Wednesday
"That's his best command, and I hope it's a sign of him settling in a little bit," New York manager Buck Showalter said.
For Senga, his success can be achieved with the right balance of physical and mental execution.
"I just need to make sure to make the right decision on what (the hitters) are looking for, and throw what they're not looking for," he said through an interpreter.
New York won just six times over a 22-game stretch before winning two straight against the Rays and sweeping a three-game set with Cleveland on last week's 5-1 homestand.
"It's never quite good enough until you're the last team standing, and that's what these guys are trying to give themselves a chance to do," Showalter said.
The Mets scored 33 runs and hit 13 homers on the homestand while their starters posted a 3.75 ERA. However, they totaled just 38 runs, clubbed 10 homers and those starters had a 7.04 ERA while losing nine of the last 12 road games
Chicago just completed a 2-7 trip to Minnesota, Houston and Philadelphia, when it was outscored 64-27, batted .203 with runners in scoring position, struck out 104 times and posted a 7.51 staff ERA.
The Cubs, 9-20 since opening 11-6, have also dropped eight of their last 14 at home
"Realistically, we've just got to be better," Cubs shortstop Dansby Swanson said. "This game is meant to be played every day and played at a certain level.
Despite Chicago's struggles, the versatile Christopher Morel is off to a stellar start. In 11 games since making his season debut on May 9, Morel is batting .370 with eight homers and 14 RBIs. He homered for a fourth straight game in Sunday's 2-1 loss to the Phillies.
Scheduled Chicago starter Drew Smyly (4-1, 2.86 ERA) allowed a run on four hits and fanned eight in six innings at Houston on Wednesday, but the Cubs blew a late 6-1 lead to lose 7-6. The left-hander, who has yielded three runs over 12 innings of his last two starts, is 2-0 with a 2.21 ERA in four career starts versus New York
The Mets' Eduardo Escobar, who is batting .215 on the season, is 8-for-14 with four homers in his career versus Smyly. Francisco Lindor is 5-for-15 against Smyly, and he's batting .314 with a homer in his last eight games overall
--Field Level Media