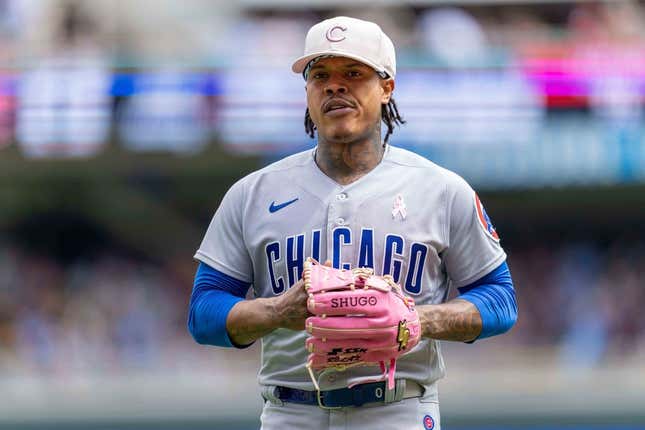 Marcus Stroman has been a consistent bright spot amid an often-frustrating season for the Chicago Cubs
Is Texas or Florida State a bigger national title contender? | Agree to Disagree
Looking to record a personal-best sixth straight winning start, Stroman will attempt to help the host Cubs complete a three-game series sweep of the National League Central-leading Pittsburgh Pirates on Thursday night
Although the Cubs sit seven games below .500, Stroman (7-4, 2.42 ERA) could earn a second All-Star Game nod. The right-hander leads the majors with 12 quality starts on the year. During his winning streak, he has a 1.26 ERA while holding opponents to a .150 batting average
Though Stroman yielded six hits and walked a season-high four at San Francisco on Friday, he gave up just two runs over 6 2/3 innings in a 3-2 victory that snapped a four-game Chicago losing streak.
"I'm just a product of my preparation and my work," Stroman said. "I wouldn't consider myself a stopper, but if that's a label, that's something good to be labeled as."
Meanwhile, Stroman reportedly has noted the Cubs haven't opened talks on a contract extension. Amid his stellar individual season, he is the subject of trade rumors, thus adding intrigue to his future with the club
"Obviously, he's thrown great this year," Cubs president of baseball operations Jed Hoyer said. "And, our focus is, we just need to be consistent as a team and kind of claw our way back to the race.
Stroman is 0-3 in five career appearances (four starts) against the Pirates but owns a 3.52 ERA in those outings. He hasn't faced them since 2021 but will try to keep the Cubs rolling after they put up 21 runs while taking the first two of the set
On Wednesday, the Cubs trailed 5-1 before scoring six times in the sixth inning en route to a 10-6 win. Mike Tauchman and Dansby Swanson each had three hits and two RBIs for the Cubs, who are 4-1 following the four-game skid
Tauchman, who made his Cubs debut on May 19, is batting .417 (15-for-36) with six RBIs in 11 home games. Meanwhile, teammate Seiya Suzuki, who hit a two-run double on Wednesday, is 8-for-15 (.533) in his past four contests
Neither has faced scheduled Pittsburgh starter Johan Oviedo (3-5, 4.16 ERA), who will try to help his team emerge from a 2-5 slump. The right-hander hasn't earned a winning decision since May 19 but owns a 2.62 ERA in his past six starts.
Oviedo allowed two runs and four hits with five strikeouts and two walks over 6 1/3 innings during a 5-1 loss to the New York Mets on Saturday.
"Every time that I'm going out there, I'm always going to give 100 percent," said Oviedo, who has held opponents to one run in four of his six road starts this season. "I'm always going to push as hard as I can."
Oviedo, who is 1-2 with a 3.86 ERA in seven games (six starts) vs. Chicago, has been a consistent presence in a Pittsburgh rotation hindered by injuries. The bullpen, however -- which entered the week with a strong 3.70 ERA -- needs to get back on track after allowing 16 runs in the first two games of the series.
Pittsburgh's Bryan Reynolds had three hits on Wednesday and is batting .343 (12-for-35) in his past 10 contests. He is 5-for-7 lifetime vs. Stroman.
--Field Level Media