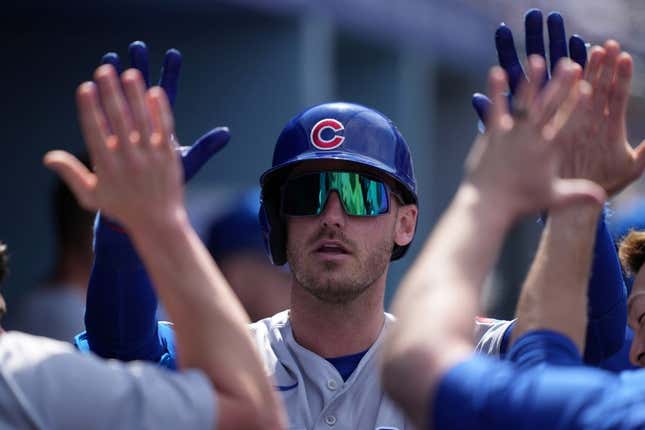 The Chicago Cubs will be riding the momentum of a narrow victory over a National League heavyweight while the Oakland Athletics will have to shake off getting knocked out by another when the clubs open a three-game interleague series Monday night in Northern California
Does Jimmy Butler have the best NBA Finals origin story? | Agree to Disagree
Cody Bellinger homered in his homecoming and the Cubs got the better of a second consecutive tense finish to beat the Los Angeles Dodgers 3-2 on Sunday to take two of three in the road series
The Athletics, meanwhile, were swept by the visiting New York Mets over the weekend
Former A's catcher Yan Gomes contributed two homers to the Cubs' 8-2 win in the opener Friday in Los Angeles, and Patrick Wisdom went deep three times in three days to send the Cubs north with their third straight series win
The two wins in three games came as the club's star outfielder, Seiya Suzuki, joined the lineup after missing the first 11 games with a strained oblique. He went just 3-for-14 in the series, but did homer in his season debut Friday.
Winning the series allowed Suzuki to celebrate his primary goal: Stay out of the way.
"I just want to make sure that I don't want to bring any bad vibes in here," he insisted. "I want to make sure the team keeps on going and make sure we win a lot of games."
The Cubs will kick off the three-game set in Oakland with right-hander Hayden Wesnecki (0-0, 7.50) seeking his first win of the season
The 25-year-old has brought out the best in the Chicago offense in his first two starts, although he didn't pitch well enough to stick around to earn either win. He allowed three runs in 4 2/3 innings in a 12-5 win at Cincinnati in his first start, then seven runs (just two earned) in 1 2/3 innings in a 14-9 home win over the Seattle Mariners last Tuesday.
He has never faced the A's in his two-year, eight-game career.
The Cubs are visiting Oakland for the first time since a three-game sweep in 2016 and just the third time in their history. The A's took two of three in the inaugural Oakland series in 2013
Chicago took two of three at home in 2019 in the clubs' most recent head-to-head.
Likewise, A's left-hander Kyle Muller (0-0, 5.52) will be seeing an unfamiliar opponent when he takes the mound. He will be starting for the fourth time this season, having allowed one run to the Los Angeles Angels, two to the Cleveland Guardians and six to the Baltimore Orioles in a negative-trending pattern.
Oakland could use Muller's best -- and most importantly, longest -- outing of the season, as their bullpen put in a mentally and physically exhausting effort in their three-game home sweep against the Mets.
A's relievers had to cover 5 1/3 innings in Friday's 17-6 drubbing, then a total of seven innings of nerve-wracking work in 3-2 and 4-3 losses the last two days. Sunday's defeat went 10 innings.
"Our bullpen guys, you look at their workload. We're leaning on these guys right now," A's manager Mark Kotsay noted after watching his relief crew serve up a game-tying home run to Pete Alonso in the ninth inning and a go-ahead wild pitch in the 10th in Sunday's loss.
"It's not an excuse," he continued. "But the reality is we've had to use them a lot in the first 14 games. I think it's impacted some of their abilities, some of their success."
The A's will take a four-game losing streak into the series.
--Field Level Media