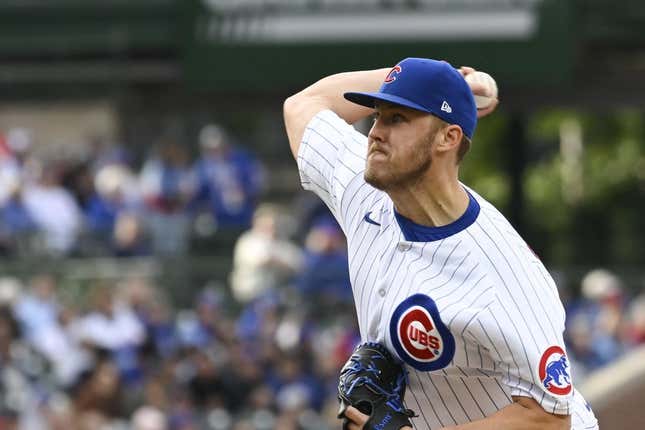 Jameson Taillon's first season with the Chicago Cubs has been rather rocky, but he's coming off one of his better outings of the year
How running an NFL team is like running a restaurant | Chef Emeril Lagasse
Looking to build on his longest start of 2023, Taillon tries to help the Cubs extend their season-high winning streak to six games on Sunday, and become the first team to sweep a series from the visiting Baltimore Orioles
The 31-year-old Taillon (2-4, 6.70 ERA) signed a four-year, $68 million deal with Chicago, but he has struggled to find any positive consistency or rhythm, and even missed some time with a groin issue. However, after posting an 8.04 ERA through his first eight starts, the right-hander has a 4.24 ERA while winning two of three June outings.
On Tuesday against Pittsburgh, Taillon allowed three runs, six hits and two walks during an 11-3 victory over a season-high six innings for his first home win as a Cub.
"I feel like we've seen a lot more confident guy," Cubs president of baseball operations Jed Hoyer said of Taillon. "Hopefully, he can just keep going and building off of that
"I still think he's on the ascent. That's a good thing for us."
Taillon also has a chance to help continue the Cubs' current run of success. It started by taking two of three at San Francisco last weekend, continued with a three-game home sweep of Pittsburgh, then has kept up by holding a potent Orioles offense to five runs through the first two games of this set
"We're resilient," Chicago shortstop Dansby Swanson told Marquee Sports Network. "I feel like we've responded well this past week."
During the 2021 and '22 seasons, while with the New York Yankees, Taillon made six starts versus Baltimore, and went 1-0 while allowing more than two runs just once in any of those contests. However, he completed six innings just one time in those starts.
The Orioles' Austin Hays is 6-for-12 with two doubles against Taillon. With two hits during Saturday's 3-2 loss to Chicago, Hays has three straight multi-hit games and is batting .364 during his last 11 contests. Teammate Ryan O'Hearn is 1-for-10 versus Taillon, but 11-for-20 during a six-game hitting streak
Baltimore has lost three in a row only once this season -- May 6-8 -- and avoided being swept in any 2023 series thus far. However, the Orioles have totaled 10 runs while losing three of four after winning five straight
Scheduled Baltimore starter Dean Kremer (7-3, 4.74) has a chance to match his career-high win total set last season. The right-hander posted a 6.67 ERA through his first six starts of 2023, but he's sported a 3.50 ERA while going 5-2 in the eight since. Kremer allowed eight hits, but only two runs, and struck out six while not yielding a walk for his second consecutive start, through six innings of an 11-6 home win over Toronto on Tuesday.
"No free passes. That's good," Kremer said. "And just being aggressive."
This will be Kremer's first appearance against the Cubs
He will try to cool off Nico Hoerner, who delivered a two-run double Saturday, and is batting .370 (10-for-27) during a six-game hitting streak.
Baltimore catcher James McCann is day-to-day after injuring his ankle on Saturday.
--Field Level Media