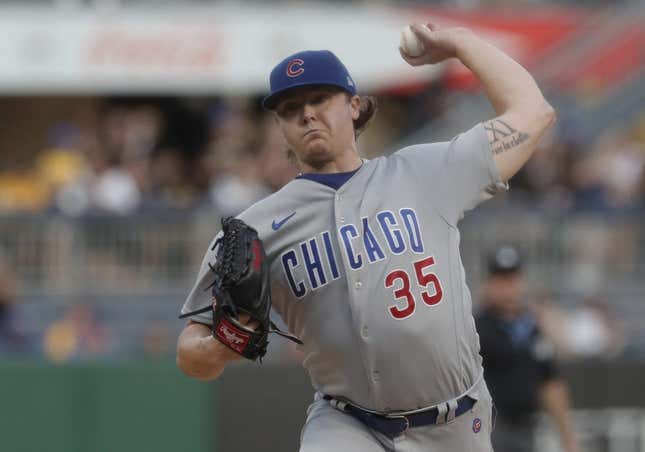 Chicago Cubs All-Star Justin Steele has done a relatively good job in containing the Milwaukee Brewers during his career.
How running an NFL team is like running a restaurant | Chef Emeril Lagasse
However, the left-hander is about to face them amid their longest winning streak in two seasons.
Looking to increase their National League Central lead over the second-place Cubs, the visiting Brewers will aim for their 10th consecutive victory on Tuesday night.
Following Monday's 6-2 victory at Chicago, Milwaukee has averaged 7.1 runs during its nine-game winning streak. It's the Brewers' longest winning stretch since an 11-game run from June 22-July 3, 2021.
"We're playing good baseball," said Tuesday's scheduled starter, right-hander Corbin Burnes. "That's what it's going to take to beat good teams."
The Cubs have proved to be a good team, going 26-12 since July 18 to work themselves into one of the three NL wild-card spots. Chicago also has won the last seven starts made by Steele (14-3, 2.80 ERA), who has a 2.60 ERA despite going 1-2 in 12 career appearances (10 starts) against the Brewers.
Steele has allowed three runs, 12 hits, a walk and struck out 13 through 12 innings of two 2023 starts vs. Milwaukee. Among the major league leaders with 17 quality starts, Steele has logged a career-high 138 innings this season and allowed two earned runs over six innings in each of his last two starts.
"He's ready. He wants it," Chicago pitching coach Tommy Hottovy said. "He wants to prove he can do it over a long season and continue to carry the workload."
For as solid as the left-hander has been vs. Milwaukee, Christian Yelich is 8-for-19 against him. Yelich, who opened Monday's contest with a homer, is batting .364 with two home runs and five RBIs against the Cubs this season.
Steele has never faced Milwaukee's Mark Canha, who homered with a man on during his team's four-run first inning Monday and is 6-for-16 with four RBIs in the last four contests.
Burnes (9-6, 3.65 ERA), meanwhile, also has 17 quality starts this season. However, he's been tagged for five and six runs in two of his last three starts. The latter on Wednesday came in part due to three homers during the Brewers' 8-7 win in 10 innings over the Minnesota Twins.
The right-hander did not yield any homers when he opened the season at Wrigley Field on March 30, but he did give up four runs and three walks in five innings of a 4-0 defeat.
Chicago's Dansby Swanson had two hits in that contest and is 7-for-12 with two homers against Burnes. Meanwhile, the Cubs' Cody Bellinger is batting .323 vs. Milwaukee this season but is only 2-for-12, with a homer, against Burnes.
The Brewers are 5-3 against the Cubs this season and have won three in a row at Wrigley Field.
Meanwhile, a loss Tuesday would mark Chicago's first losing home series since dropping two of three to Boston right out of the All-Star break.
—Field Level Media