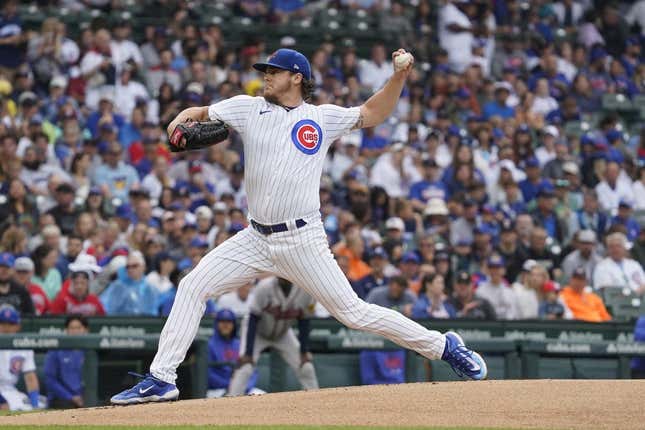 After a needed day off Thursday led to an impressive win Friday, the Chicago Cubs hope to continue their playoff push by completing a series win over the host Toronto Blue Jays on Saturday afternoon
How running an NFL team is like running a restaurant | Chef Emeril Lagasse
Behind a career-high seven innings from right-hander Javier Assad in his third start of the season and a two-run home run by Cody Bellinger, the Cubs took the opener of the three-game series 6-2 over the Blue Jays on Friday night
The Cubs appreciated the day off Thursday after playing games on 16 consecutive days
The day away also gave the bullpen a break. Five of the Cubs' previous seven games before Friday were decided by two runs or fewer
The Cubs will take a short-term approach for the final seven weeks of the regular season, a contrast to the approach of the previous two seasons when the team was out of contention and able to think long term
"Right now there's guys that are going to lack some at-bats and innings in moments," Cubs manager David Ross said Friday. "You're going to ride the guys that are doing well. ... Myself included, just trying to put the right winning formula out on the field every single day
"There's no mandates of this guy's got to play, that guy's got to play. It's 'Let's go win baseball games.' It's a refreshing time to be in this push and those guys put themselves in that position and earned it.
The Cubs are scheduled to start left-hander Justin Steele (13-3, 2.68 ERA), who will be facing the Blue Jays for the first time
The Blue Jays are scheduled to start right-hander Chris Bassitt (11-6, 3.87). In two career starts against the Cubs, he is 0-1 with a 6.52 ERA
Toronto had been using a six-man rotation recently, but has pared that to five after optioning struggling right-hander Alek Manoah to Triple-A Buffalo on Friday. It is the second time this season that Manoah has been sent to the minors. The first time, he was shipped to the Florida complex to work out his struggles (3-9, 5.87 ERA in 19 starts)
Saturday marks Day 15 of the Blue Jays' stretch of 17 games in 17 days. They will have a day off on Monday and another Thursday, so a six-man rotation is not practical
"With where we are right now in terms of schedule and other starters, it's a tough discussion," Blue Jays manager John Schneider said. "(Manoah was) our Opening Day starter. It's an unfortunate thing for anyone. It was a tough conversation for sure.
Manoah took the loss Thursday against the weak-hitting Cleveland Guardians, allowing four runs in four-plus innings
"It just comes down to command and being in the zone," Schneider said. "The times that he was in the zone here, he was really good. Whenever you're issuing free passes and driving your pitch count up, it's tough to win. It's the same message we've been talking to him about all year.
The Blue Jays promoted right-hander Hagen Danner from Buffalo to fill Manoah's roster spot. Danner made his major league debut Friday in the ninth inning but had to leave after retiring one batter with discomfort in his side
Former Toronto slugger Jose Bautista signed a one-day contract with the team on Friday so that he could retire as a Blue Jay. He will be honored Saturday by being added to the team's level of excellence in a ceremony. He earned all six of his All-Star berths with Toronto and smacked 288 of his 344 career home runs as a Blue Jay
--Field Level Medi